One remarkable Iraqi woman's determination to rebuild her country
Life is hard for women living in ISIS-controlled areas of Mosul, Iraq. Dr Farah Al Siraj, a member of Iraq's Federal Parliament, knows this from first-hand experience.
The battle to rebuild
That experience has driven her to play a leadership role in addressing the needs of people living in conflict zones within Iraq. Last year, Dr Al Siraj partnered with the United Nations Development Programme to assist in complex problem solving in conflict areas, with a special focus on women and girls.
The Point Magazine spoke to Dr Al Siraj during her visit to Australia earlier this month. She said there is much to do in Iraq before it can rebuild.
"Unfortunately, many people in Iraq have lost the zest for life. ISIS has normalised death and so Iraqi's believe that death and destruction is a normal part of everyday life and it's not. When a country's people reach that stage, it becomes incredibly difficult to encourage communities to rebuild and improve living conditions."
The international coalition led by the US and Iraqi government security forces are currently fighting to liberate Mosul from ISIS. More than 580,000 civilians have fled the city since the operation began on 17 October 2016, and the United Nations believes that half a million people remain in Mosul with little food and water.
Dr Al Siraj said the battle has been hard, but progress is being made.
"Daesh (ISIS) has committed many atrocities and unthinkable crimes. It's been a difficult few years for the country, especially Mosul, but the end is near. We've lost many young men fighting against ISIS but their fight has not been for nothing. ISIS hold three key areas in Mosul now and most of the city has been liberated. It's only a matter of time before the operation, God willing, is successful and full liberation is achieved."
"The best way to overcome ISIS is not just on the battlefield but also in the classroom."

– Dr Al Siraj
Education remains key
Dr Al Siraj said the key to defeating ISIS was quality education for Iraq's young population.
"The best way to overcome ISIS is not just on the battlefield but also in the classroom. We need to teach our children about humanity. The role of the teacher is incredibly important because they're the ones that need to educate young people about not only their own religion but also other religions of the world. We need to educate them about mutual respect and understanding and also teach Islam as the religion that it truly is and not the ideology ISIS has been advocating."
Dr Al Siraj said women's rights and participation at a social and civil level was a 'must' if the community is serious about rebuilding Iraq.
"When I meet young women, they're crying and wishing to go back to university. They're hungry for an education but unfortunately for many of them, due to the situation with ISIS, it's not an option. We need women at every level and I encourage more Iraqi women to get involved in politics because they're the foundation of our society and we need them."
Al Siraj said that although progress had been made when it comes to women's education, there was still much to be done and men can be part of the solution.
"Men can play a key role in their lives of women. They can support them and encourage them to get an education and to apply for positions that many women believe are out of reach for them. Basically, men can help by standing aside and not being an obstacle to what a woman desires to achieve. There is plenty of untapped potential in our women and it will take time but slowly things are getting better."
Dr Al Siraj said that the experience of ISIS and death has taken its toll on women and affects what they're able to achieve.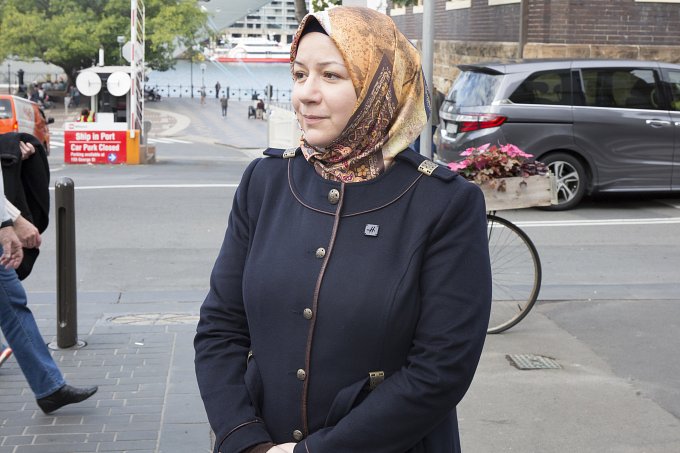 "A lot of women have been left widowed and because of this, they then have to take on extra responsibilities. So, things like an education or working therefore doesn't become their priority. I know so many of them who I have met want to study and want to further their careers, but their reality doesn't allow for that."
A hope for the future
Dr Al Siraj said her role in politics has not been without its challenges and dangers.
"Been a female, working in politics and living in Mosul, it's not easy. Have I considered leaving Iraq? Sure, it's crossed my mind. It's been in the back of my mind because I have two young children and I want the best possible future for them. But, Iraq is my home and I am serving my country to the best of my ability despite the challenges I face. I have committed to my role and I have to do my part to make my country the best that it can be."
Dr Al Siraj said despite the consecutive wars Iraq has endured, she believes Iraq can return to its former state.
"When people ask me what I hope for the future for Iraq, it's a difficult question for me to answer. I wish that Iraq can be a serious player on the world stage. I wish that it establishes strong links with its neighbouring countries and positions itself again as the cradle of civilisation. I know it has the potential but it will require a community effort."
Dr Al Siraj said she had one message to Iraqis living outside the region.
"If you have skills, expertise or knowledge that you think will serve Iraq well, then you are more than welcome to visit. Help us rebuild, Iraq is your home too. Don't forget us."
The Point
Life is hard for women living in ISIS-controlled areas of Mosul, Iraq. Dr Farah Al Siraj, a member of Iraq's Federal Parliament, knows this from first-hand experience.