Yemen on the brink of famine as 'neglected crisis' takes toll
It has been two years since the crisis in Yemen began, with little signs of the conflict slowing down. The conflict has left two million Yeminis internally displaced, causing a devastating humanitarian crisis and famine.
A country in crisis
The United Nations recently described Yemen as "being on the brink of famine" with more than 7.3 million people requiring emergency food assistance and 460,000 children suffering from acute malnutrition.
Shabio Mantoo, an Australian who was recently deployed to Yemen in early 2017 as part of a United Nations humanitarian tour, described the situation on the ground to The Point Magazine.
"The conflict is taking a huge toll on civilians. An average of 75 people are being killed or injured every day. Many are also dying because of preventable causes arising from the conflict so the damage and impact on civilian life is unquantifiable", she said.
An estimated eight million Yeminis have also lost their livelihoods due to the conflict, preventing them from basic access to services. In February 2016, The United Nations Office for the Coordination of Humanitarian Affairs released figures detailing the impact of the humanitarian crisis in the region.
More than 50,000 women, children and men have become casualties of the conflict it began in 2015. Of those 7,684 were killed and 42, 553 were injured.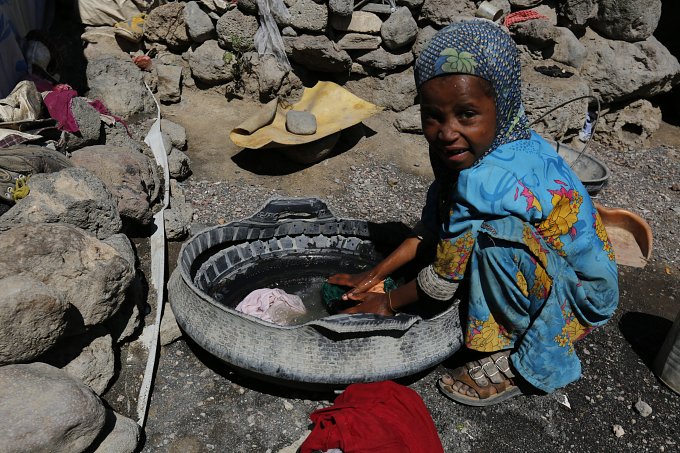 Dr Sara Phillips from the University of Sydney told The Point Magazine that describing the conflict as a civil war was fair, although it was important to remember there are other key international players.
"The conflict in Yemen has a very important international tone. It's possible that the conflict could have ended or wouldn't be as violent were there not external forces acting. It's got significant impact on the nature of the conflict and the impact it's had on locals."
A complex situation
It is an ongoing complex situation as a Saudi-led coalition has been engaged in a bombing campaign against local rebels known as the Houthis. Meanwhile terrorist groups are also operating within the country, creating one of the deadliest conflicts in the region. The coalition, which includes Saudi Arabia, Bahrain, Kuwait, Qatar, the United Arab Emirates, Egypt, Jordan, Morocco and Sudan, has further enforced a blockade on Yemen, of which 90 per cent is reliant on food imports.
Dr Phillips said immediate action needed to be taken to improve the situation, and she warned if nothing is done, the consequences for the Middle-East could be devastating.
"After the events of 2011, it's clear that what happens in one country in the Middle-East affects what happens in others. In Yemen, Saudi Arabia can flex muscle in ways it can't in Syria and Iraq… Saudi has often had an interventionist role in Yemen and [they] share a very long border so all these conflicts are connected and if things change in Iraq and Syria you may see some change in what Saudi is doing in Yemen."
Conflict fatigue and a neglected crisis
Dr Phillips said limited media coverage has been given to Yemen due to conflict fatigue.
"There's conflict fatigue because there are so many conflicts going on. Syria and Iraq have also taken on the spotlight and often Yemen has always been seen as peripheral and not a key player in Middle-Eastern geopolitics. There's also limited expertise on Yemen outside of the country and it's that limited amount of knowledge that feeds the general media disinterest," she said.
Mantoo said ordinary people can help by donating to charities of getting involved through the United Nations.
"Despite it being the world's largest humanitarian crisis at present, the crisis in Yemen is a neglected crisis. Right now, UNHCR's operations in Yemen face a critical shortfall in funding. Any donation to help our teams on the ground deliver vital aid would make a huge difference," she said.
The Point
It has been two years since the crisis in Yemen began, with little signs of the conflict slowing down.