The good Aussies flying to conflict zones
We have all read the stories about Australians traveling abroad to conflict zones to join terrorist groups like ISIS. However, very little attention has been dedicated to Australians traveling to conflict zones to help communities to learn and heal.
One of these notable Australians is independent journalist and ESL (English Second Language) teacher, Vanessa Powell.
Powell has spent over a year in Iraq teaching hundreds of Iraqi and Kurdish students English.
Australia so far has resettled 3,500 people from Iraq and Syria, the government is committed to taking in a total of 12,000.
Speaking to The Point Magazine from Erbil, Iraq, Powell said that despite the devastation and the refugee crisis that she has witnessed, the humility and courage of young people gives her hope.
What are you currently doing in Erbil?
I've been living and working in Erbil, the capital of Iraqi Kurdistan region, for well over a year now. Most of my work her has been with the Iraqi Christian community teaching English at the Catholic University in Erbil.
I've taught hundreds of students here in Iraqi Kurdistan. Some of my students have stories of displacement but others are originally from Iraqi Kurdistan or have moved here at various points.
I had one really great group of students that studied for the International English Language Testing System (IELTS) exam with me last year. They were the university's first group of students after its opening in December 2015. Seven out of nine of my students were displaced from Mosul and surrounding areas. They all now work as teachers at a local school in Iraqi Kurdistan. They were all Iraqi Christian.
I had one woman who was half way through her veterinary science degree at Mosul University when ISIS came through. She had to finish her final year of study in Kirkuk, whilst also working as a teacher. Another of my students told me how his brother was kidnapped off a bus in 2007 on the way to Mosul University by extremists. His family had to pay money to get him back.
My students always told me that when they left their homes in areas around Mosul, they would be in Kurdistan only one or two weeks, but so far it's been two and half years later and they are still unable to return to their homes. They felt like the United States, with all their military power, could intervene and have their homes back for them whenever they liked.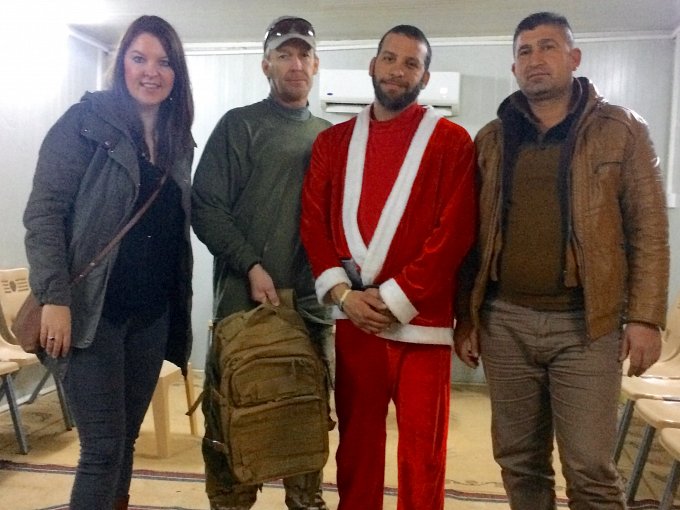 Vanessa with some friends and colleagues.
How long have you been there?
I first started working in Iraqi Kurdistan in September 2014 when I participated in a Christian Peacemaker Teams delegation. It was at a critical time during the height of the refugee crisis. At the time the usual two-hour drive from Erbil to Sulaymania, took over four hours because of the checkpoints and traffic. Many of internally displaced people (IDPs) were stuck outside checkpoints trying to reach the safety of Kurdistan. I remember one old man who had been outside a checkpoint waiting for two days and had very little water and a little bread left when we met him. IDPs had occupied almost every unfinished or abandoned building, had taken refuge in churches, mosques and temples around Iraqi Kurdistan. Mosul had already been overtaken by ISIS a month or so earlier and Yazidi people had escaped massacres around the area near Shengal. There were still thousands of Yazidi people trapped in the mountains and up to 5000 women had been kidnapped.
Over two years later and I'm still here. I went home for a while then came back. It feels like home now and I don't want to leave when there is so much suffering and so much work to do.
Where are you based?
I live in a Christian neighbourhood called Ainkawa. Iraqi Kurdistan aspires to be a secular society, much unlike its neighbours Iran, and the south of Iraq which are Islamic. To some degree there is a certain freedom and openness here not found in other areas. Still many of the Iraqi Christians feel like they are badly treated living in Iraqi Kurdistan.
When ISIS came through in 2014 people lost everything. They lost their homes, their jobs, and their lifesavings and were uprooted to Iraqi Kurdistan, where they don't speak the language, Kurdish, and live as IDPs. There are still 5000 people living in caravans just up the road from me in the Ainkawa IDP camp. It's boiling hot here in the summer, up to 50 degrees and freezing cold during the winter.
I used to have an Iraqi Christian driver; he did not speak one word of English, not one and used to drive. I used to try and teach him English on the drive into work and he taught me some Arabic. He told me he had had $80,000 stolen by ISIS. People lost everything when ISIS came in 2014. I found out later that ISIS also stole his driver's licence.
What made you go there?
I'm the kind of person; I want to see the situation for myself. If people are suffering I want to see with my own eyes.
What has the environment been like in the past few months?
It's been really horrible. The operation to take back Mosul started in October and it's looking like it will go on for some months more. The first few weeks you could feel the tension in the atmosphere. I could see all the military convoys moving towards the frontlines. I have friends who are Peshmerga risking their lives to defend their country, I also have friends in the US military, while they are not in actually armed combat are affected psychologically by their role in the fighting. It's been freezing cold because were in the middle of winter, so it's just awful.
Lots of people are dying and being injured. We have different military aircraft flying constantly overhead. Apache helicopters, Osprey, it's like a cross between. I can recognise the different types of aircraft now and the different types of weapons which I never could before.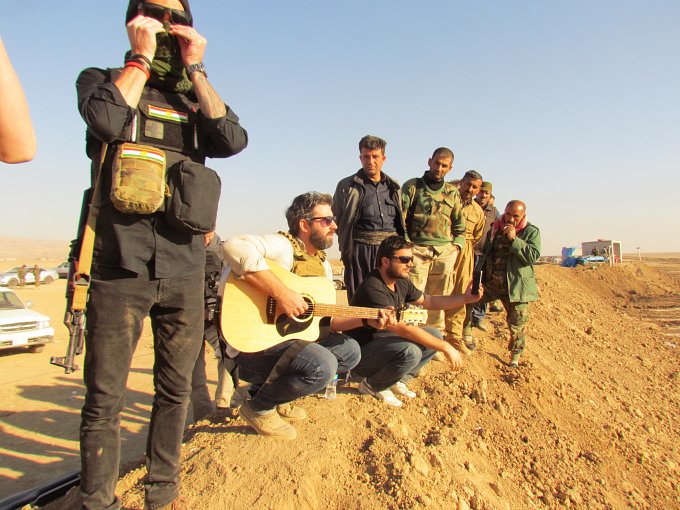 What's been the most devastating thing you've witnessed?
Just the total destruction. I've visited many of the "liberated" areas and nothing much is left of any of them. They have been completely destroyed by the fighting, a combination of all four sides, ISIS, Coalition airstrikes, Iraqi army and Peshmerga, have reduced many of the towns and villages to rubble. People are not going to be able to live in the areas again. Whole areas are littered with landmines, unexploded ordnance and other explosives. I guess it depends on whether the people want to rebuild and want to return. I know a lot of the Yazidi people said they felt there was no place in Iraq for them and don't wish to return after their neighbour turned on them in 2014 and many of them were chased out by former neighbours and people they knew.
What's the best thing you've witnessed?
We were at the frontlines a couple weeks ago; I was with a German photographer. We were at a point opposite an ISIS village where IDPs were arriving into Kurdistan. The poor people had to clamour up of this big dirt mound, the frontline, with all their possessions to reach the safety of Kurdistan. The IDPs were just driving up to the frontline. The Peshmerga were helping the civilians carry their belongings. There was an American guy, a volunteer from Frontier Alliance International, who was sitting on the frontline playing Hallelujah on his guitar for everyone. There is definitely a lot of goodwill and welcome towards the displaced, which is heartening.
Are you hopeful that the government will regain control of Mosul?
Well, I think this will eventually happen, it's just a question of at what cost and how many people have to die, or be injured, how many people will lose their homes. The suffering is huge….The Australian government needs to provide more humanitarian aid. People who have lost their homes in Coalition airstrikes need their houses rebuilt now, not later. People need basic services like electricity reconnected, gas and fuel for heating; clean drinking water available immediately. And this is not happening. People need help now.
The Point
We have all read the stories about Australians traveling abroad to conflict zones to join terrorist groups like ISIS. However, very little attention has been dedicated to Australians traveling to conflict zones to help communities to learn and heal.