Zimbabwean meets Australian hip hop
Tsitsi Mafuta grew up in a small town, about thirty minutes from Harare, the capital city of Zimbabwe. In the past years, she has been drawing from her Zimbabwean roots along with her experience as an immigrant in Australia to produce a blend of fun and socially conscious hip hop under the name of Blaq Carrie. Her songs have earned her the Queensland Music Award for Best Urban Song, Winner of the triple j Sprung Festival in 2013, and more recently the Australian Independent Award. The Point Magazine catches up with this Brisbane songstress to discuss some of her influences and why she is loving the current message in Australian hip hop.
" frameborder="0" allowfullscreen>
When did you come to Australia?
I arrived in 2004, when I had just turned eighteen. I came with my cousins, and we got to explore together. I understood why my parents sent me here – higher education and to understand sense of responsibility and sense of appreciation. I came here for higher education as it was the easiest place to get a visa at that time. UK and US was a monster to try and tackle. Australia presented an opportunity and it seemed accessible. There were agencies doing tours in our high school, of Zimbabweans who had studied in Australia and they showed us kangaroos – why is this the first thing they show?
The universe was placing Australia in my path.
What were some of first impressions?
I had complete 360-degree culture shock. Some of the things I first found strange was I didn't realise you could wear things in the city. Where I'm from people dress up to go into town. Seeing a lot of white people. I had come from a predominantly black country to a predominantly white country. You learn the culture. And there is a big difference between white Africans and white Australians. They loved Michael Buble. I was like okay, I get it. And don't disrespect Kylie Minogue. Mainly the race thing to get used to.
How do you think your upbringing in Zimbabwe has influenced your music?
I firststarted music back in Zimbabwe. My dad believed in me and saw something. Zimbabwe is an academic nation compared to the arts. Especially sending me overseas to invest in academics – I had to study something that was respectable. So, when I came here initially I studied finance and accounting.
The music scene at that time in Zimbabwe was an embryo rather than an artform. I had a few friends who were playing and would spend a lot of bus money to go and see them as there wasn't much. The hip hop scene has hatched into a baby now. It crawls along. But the scene is dominated by dancehall wave now.
But in Zimbabwe I was influenced by Oliver Mtukudzi who my grandmother introduced me to. She used to play this guy all the time and even up to now I listen to him now.
As a nation, he carried' the torch' so to speak as he is popular and sings in our native language. I also listen some of the contemporary musicians like Jah Prayhz and Tehn Diamond.
But growing up we had European MTV, so I was also influenced by Euro-pop and UK music scene. Hip-hop wise I was into Kanye West, Lauren Hill, Aaliyah.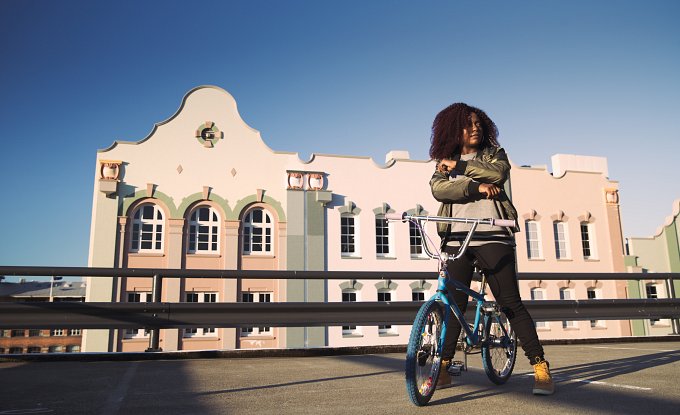 There is a rise of socially conscious hip hop now, that is also providing a platform for many traditionally minority voices. Do you see yourself as fitting into this?
Yes. I am an immigrant. 'Let there be hope' is a song about my country, where there are so many false prophets taking advantage of the situation and the churches sell hope and they make so much money out of it. Many have stopped having hope. It's also taboo to talk about arts and music there, their image is of the struggling artist who is a burden to the family because this is the view in some parts of Africa, as opposed to first world country where you can pursue both passion and work a job.
Overall, I have been very lucky as I haven't experienced racial profiling in getting a job compared to friends who have had it. My friends think I am lying but I haven't experienced it yet.
I rap in English but I talk with accent and cadence. I speak about how hard it is for immigrants. When you come from a place where opportunity is so rare and given to people as opposed to where it feels so possible on every corner here
Why do you think hip hop is popular in Australia and what direction do you see it heading in this country?
It is growing scene. I'm loving the message from hip hop artists like L Fresh the Lion, 360, and Urth Boy which is showing people we need to embrace other cultures.
At the end of the day this country is a multicultural country – and maybe this nation didn't expect black Africans and others moving in – but your next generation will be living with other minorities. So, if we teach this generation how to embrace each other it will passed on. I also am grateful for the Australia industry for embracing me and others – regardless of race and background. Good music deserves the chance to be played.
The Point
We catch up with Blaq Carrie to discuss some of her influences and why she is loving the current message in Australian hip hop.
References
Credit is Stills Photographer - Julian Panetta.