Sparks Fly at Anglican Church
Reverend Tiffany Sparks is used to breaking down barriers. As a pregnant teenage mother, Sparks studied her Bachelor in Theology and Social Sciences, and when she completed her thesis on the women apostles in the early Church, her path seemed ordained.
In 2011, Sparks became Deacon and Priest in Charge of St Paul's Anglican Church in the parish of Ithaca Ashgrove, Brisbane. During her time, she has introduced Bitcoin and Poke Stops Stops (part of Pokemon Go which are places of interest or other hotspots in the actual community, for example buildings or monuments) to educate her congregation about online behaviours. And she is part of the Progressive Christians who have been calling on advocates for LGBTQIA rights and want to promote discussions on same sex marriage.
The Point Magazine talked to the Reverend who is setting off sparks in Queensland and beyond.
When did you realise you wanted to be a priest?
I'm not sure that I ever 'wanted' to, I was studying a Bachelors of Social Sciences at University wanting to be a psychologist. I was doing also doing a Bachelors of Theology to pursue my own interests. I had always been interested in exploring my faith and discovering an academic approach to the scriptures. I loved both fields, but I felt more called to theology. Eventually that calling moved me from pursuing a life in academic field to pursuing a life in the faith life of the church.
You are married and have six children. For many people, this goes against their idea of a'traditional' priest. Can you tell us what kinds of prejudices you have had to overcome in your journey to this position?
In the Anglican Church it is normal for Priests to be married and increasing numbers of priests have blended families. Our family is comprised of my son which I had at 16 and my husband's 5 children from a previous marriage. People are usually shocked by the number and age of children for people so young. The issue that I have faced is prejudice left over from falling pregnant at 15. My school principal decided that I had ruined my life and would never amount to anything. People from the outside world have used it as an example of Christian hypocrisy. My belief is that while I would not advocate having a child so young, we need to support our young mother's the best we can and encourage a full life for the family. I have had people asked me how I got pregnant and question my Christianity and judgement as wicked. It was pretty unacceptable on reflection. My son is now 19 and has just completed his first year of a Bachelors of Fine Arts at QUT. He is well loved and happy.
The other prejudice that I face is being a young woman in a position of leadership. There are still people in the Church and in different denominations that do not believe that women should be ordained or in positions of authority over men.
"The church can only change if people create it. If you want to see change, attend your local Anglican Church, write to priests, write to Bishops. Generally, be part of the discussion."

– Reverend Tiffany Sparks
You have said on ABC television that you believe progressive Christians were wanting to talk about same-sex marriage? What are you (or your church) doing to promote that conversation? And how what challenges have you noticed?
Progressive Christians are egalitarian in nature and believe that all should have the same civil rights and social opportunities.
I recently preached at St. John's Cathedral for Pride week on 'How To Do the Church Better' and raised a number of issues about how the Church has treated the LGBTIQ community and how we can be a more open community filled with God's love rather than believing that we have a monopoly on it. We acknowledge all the amazing LGBTIQ people who are practicing and contributing members in our parishes - who have been part of our community historically. We seek to give them an open and loving place with full equality.
Can you tell us about what your thesis topic was on and how you have found it relevant for teachings today?
My thesis topic was on Junia, the first woman Apostle from Romans 16.7. I was intrigued by her because in the 1500's when Romans was translated from Koine Greek into French the translator assumed she was a man because there were no such things as women apostles. It was only until the
late 80's that Biblical scholars fully discovered the mistake. Even now it is still debated by the more conservative wing of scholardom that she was either not a woman or not a real apostle. This taught me a lot about how to view the scriptures from an academic perspective and the culture that the New Testament was born from. My thesis taught me a lot about the radical egalitarian nature of the early Church and how it got more conservative and complementarian over the centuries. I find this helps in society today, that we have to keep the egalitarian nature of God alive in the world rather than limit God into loving a select few and even then, loving some more than others. This view is a misrepresentation of the scripture.
My study also allowed me to have a faith and academic understanding of all the books in the Bible that were written by different people, in different times, in different contexts. I think these days there is a view that it was presented complete all written at once by the same man to be read in the same light as the next. This is also a gross misrepresentation of the Biblical approach. I was taught to see the spirit of the message rather than get stuck on the words.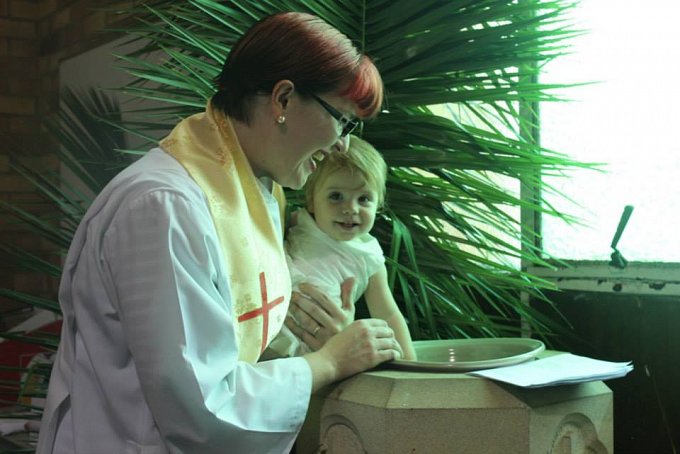 Can you tell us about your work to do with cyber bullying and how the deal with bitcoins fits into your church?
My husband is a software engineer and we had been following cryptocurrencies for years. It is an interesting subject. Our parish was the first mainstream church in Australia to accept Bitcoins. Because Bitcoin is a peer to peer transaction it is used in the more seedier sides of the internet world especially through the silk road. It is used to buy synthetic drugs, weapons and for human trafficking.
Our campaign was to raise awareness regarding our online behaviour. The global internet culture makes us feel anonymous and it is amazing what people will do once they feel they are anonymous. People will bully, buy and sell and use their power to oppress without any feelings of accountability.
Our campaign was to ask people as a New Year's Resolution to change their online behaviour - to realise that there is a real-life person on the other side of the computer screen. To humanise our online relationships.

What other ways have you used modern technology and online tool to spread messages among younger demographic?
Learning from Gosford Anglican we use our church sign to engage with the community, advertising lures on our Pokestop for Sundays for example, Repent4Lent and bitcoin. We are active on social media and provide all of our sermon audios on our website. I also have my own webpage for news and releases. Our Repent4Lent campaign is a good example of using technology to become more accessible.
Based in the idea that we are told that what we put online will be there forever, well what do you want to say to future generations about the current climate, social and political policies? Our first year reached over 30,000 people and we have had hundreds of contributions on topics of climate change, marriage equality and refugees. It gives people the ability to have a conversation with future generations.
Anything else you would like to add?
The church can only change if people create it. If you want to see change, attend your local Anglican Church, write to priests, write to Bishops. Generally, be part of the discussion.
The Point
The Point Magazine talks to a Reverend who is setting off sparks in Queensland and beyond.