The veiled task force: wearing the hijab on the job
Wearing the hijab on the job has proved a challenge for Australian Muslim women in our police and defence forces, but the culture is changing and we may soon be seeing more veiled women in uniform.
This was one of the interesting topics explored at the first National Multicultural Women's Conference held early this month in Parramatta, Sydney. Organised by Settlement Services International (SSI) and the Federation of Ethnic Communities' Councils of Australia (FECCA), the theme of the conference was 'Influencing Change, Vision and Impact'. The conference brought together over 300 participants from around Australia and supported the participation of young refugee women through a scholarship program.
The conference highlighted some of the barriers women in Australia face advancing in their professions, and the additional stress faced by culturally diverse women. Two inspiring women shared their experience of working within the traditionally patriarchal and monocultural police and defence forces, and how they are helping a growing shift towards inclusivity.
Lebanese born Maha Sukkar works as a senior constable with the Victorian Police. She was inspired to join the police force after the events of September 11, when she noticed a rise in prejudice against the Arabic-Muslim communities. She told The Point Magazine she had personally experienced verbal abuse and people spitting at her and telling her to go back to where she came from.
"Rather than sit at home, I engaged in volunteer work with the Equal Opportunity Commission and attempted to work with both the Arabic and Muslim communities as well as the general Australian communities. I thought by joining Victoria Police, I would be able to educate the general Australian community and the Victorian police members in particular, about the Muslims and Arabs and try to bridge the gap between the two. So, I started my application to join Victoria Police in January 2002."
From the beginning, she said her family and community were extremely supportive of her decision and her career. When asked about the challenges of being a young Muslim woman wearing a hijab in the police force, she said there are moments which have been challenging but overall people have adjusted.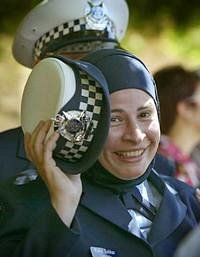 Senior Constable Maha Sukkar
"So far the police around me have been very understanding and accepting. I was told by a couple of people that they wary of me from the beginning – mostly because they hadn't worked with someone that looks like me, and rumours were circulating about how I eat or drink or deal with people in general (males in particular). After working with me, I assured them that I'm just like anyone else just with a different background and life experiences."
Sukkar said initiatives like the Victoria Police Muslim Association, which was sanctioned by the Chief Commissioner of Police in 2013 and is the only known Muslim association within Australian police jurisdictions, have helped to set up a model of inclusion.
Captain Mona Shindy is the Head of the Guided Missile Frigate System Program Office and the Chief of Navy's appointed Strategic Adviser on Islamic Cultural Affairs with the Royal Australian Navy. Egyptian-born Shindy joined the RAN in her second year of university while studying her electrical engineering degree at the University of New South Wales. Her brother, who was also an electrical engineer, was working with the RAN, travelling the world, and sending her post-cards, and she decided she wanted to do the same. She has now been in the RAN for 27-years.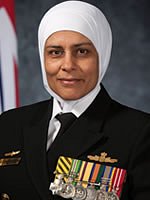 Captain Mona Shindy
Cpt Shindy told the conference that she only began wearing the hijab in 2014 when she went on pilgrimage, and decided she wanted to practice her faith more holistically. Nothing prepared her for her first day returning to work wearing her hijab. Her colleagues could not make eye contact with her anymore, which was difficult for her, and for them, and she suffered emotionally. She said she is not sure if she would have advanced in her career if she had begun wearing the hijab earlier in her life.
Cpt Shindy acknowledged that bringing about change and reform in an organisation steeped in tradition can be met with resistance and fear. Normalising diversity is a difficult and long process that demands persistence and patience.
But there have been significant changes to the environment in the past three decades she has been in the RAN. Cpt Shindy said it is now normal to have a female boss or a colleague, however, it is not yet normal to have someone wearing a hijab with uniform. She said that normalising diversity in an organisation can allow individuals such as herself the comfort to serve with dignity and pride and to achieve their full potential.
Cpt Shindy said that, as a member of a minority, it was her responsibility within an organisation to have discussions and give direct feedback to encourage a more diverse and inclusive workplace. Sukkar echoed this sentiment and said she always encourages people to ask questions to break down misconceptions.
"In my presentations to students and community members I always encourage them to get out in the community, be involved and become proactive rather than just reactive. I usually say: "If I, the new migrant with a weird English accent, can do it, then you can do it."
National Multicultural Women's Conference 2016 Conference 3-4 November, Parramatta, Sydney. Organised by Settlement Services International (SSI) and the Federation of Ethnic Communities' Councils of Australia (FECCA) and sponsored by Multicultural NSW.
The Point
We may soon be seeing more veiled women in uniform in Australia