Going home for the first time: life in Iraq today
For many people around the world, Iraq is synonymous with terrorism, suicide bombings and death. For me, it's home. Or so I thought.
In September I took a six-week trip with my husband.
This wasn't just any trip. This would be my first visit to Iraq since my family fled during Saddam Hussein's brutal dictatorship. My mother was seven months pregnant with me when my parents left Iraq in 1991 and a few months later I was born in a UNHCR tent in Rafha, a Saudi Arabian refugee camp.
Despite the fact I had never stepped on Iraqi soil, I still felt connected to my home country.
Growing up, I never experienced the identity crisis that other migrants and refugees would talk about. I knew who I was. I knew my mother and father's childhood stories, I understood and took pride in my culture, I knew the lineage of my family back home and I followed Iraqi politics very closely. I was confident in my heritage, religion and ancestry. I was proud to be both Iraqi and Australian. To me, both countries were home.
I didn't know what to expect before going to Iraq. But I certainly had hopes and dreams of how it would be.
"My whole life I had felt my Iraqi identity strongly. But now - to the Iraqis living in Iraq - I was viewed as a visitor and an outsider."
While on the flight to Najaf airport, I imagined the searing sun glaring in my face and the palm trees swaying in the hot wind. I imagined the strong patriotism from Iraqis and I imagined us discussing their hopes and desire for a better Iraq.
Before our journey, my parents warned me that people in Iraq were different. After so many years of conflict, they said not everyone would welcome me with open arms. They said that Iraq was tough.
But I don't think any pep talk could have prepared me for reality.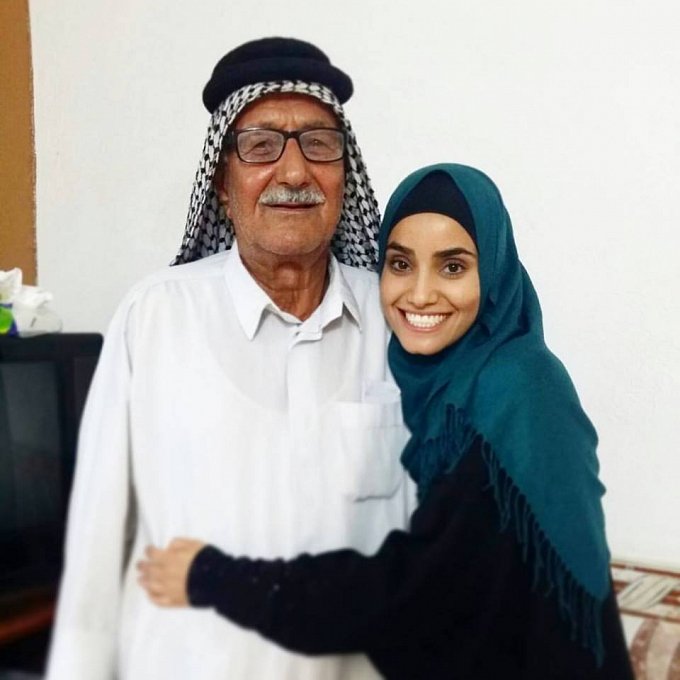 Meeting my grandfather for the first time.
When we arrived, the sun was definitely searing in 50-degree heat, and the golden domes of Imam Ali's shrine were glistening in all their glory. But it felt different. It felt complex and dark.
Meeting my grandparents for the first time was overwhelming. On our first night, my grandmother and I were up until 2am catching up on life, sharing stories of our two very different upbringings and our lives today.
The more people we met, it became very clear that the romanticised version I had concocted in my mind was far from what Iraq had become.
While visiting Karbala to make a pilgrimage to the shrine of Imam Hussein, the grandson of Prophet Mohammed, our driver picked up that we weren't local, although I spoke fluent Arabic in the Iraqi dialect. "You're ajnabi," he told me, an Arabic term used to describe westerners.
A few days later a cousin asked me why we had come to Iraq. I told her that I wanted to meet my extended family and see my heritage and visit the shrines I had heard so much about.
"Firstly, you're not really from here. Secondly, Iraq is the last place you should be in. Out of all the countries you could travel to, you've come here. There's nothing here, it's nothing but war and death. Don't get me wrong, I love my country, but if I had the opportunity to leave it I wouldn't even think twice. This isn't a place you want to be," she responded.
I was shocked. How could she tell me I'm wasting my time by coming here? How could she question my Iraqi identity?
On another occasion, after returning from our second trip from Karbala, our young taxi driver told us that "people like me" didn't belong in Iraq.
I asked him what he meant by people like me.
"You know, the people who left Iraq." He was resentful, almost angry that "people like me" could still consider themselves Iraqi, despite living in another country.
When we returned to my grandparents' home, I was hurt, furious and confused.
My whole life I had felt my Iraqi identity strongly. But now - to the Iraqis living in Iraq - I was viewed as a visitor and an outsider.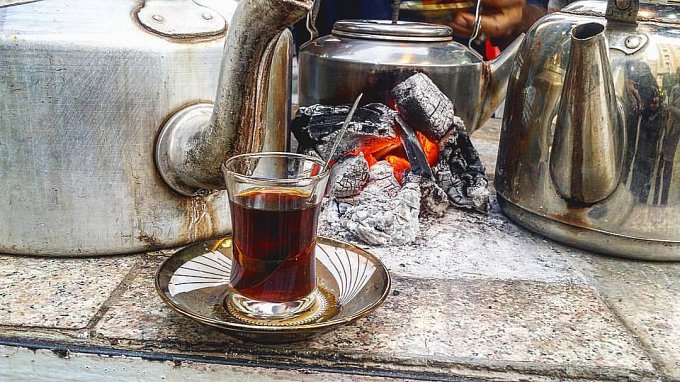 Traditional Iraqi tea is served along the road leading to the shrines located in Karbala.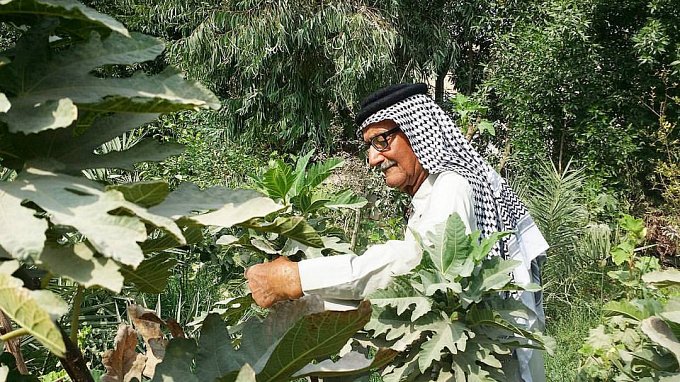 My grandfather picking out figs in his backyard.
On Eid al Adha, the celebration of sacrifice for Muslims, my husband and I went to my mother's hometown of Meshkhab.
I'd heard about Meshkhab many times before. It was as beautiful as I had pictured it. There were palm trees after palm trees that lined the edges of dense green rice fields. There were also thousands upon thousands of photos of Iraq soldiers killed in the fight against ISIS.
Most of these young men were between the ages of 18-30. "Our future generation is being wiped out," said one of my cousins who joined the military after ISIS took control of Mosul.
My cousins, two of whom are fighting against ISIS with the Iraqi military, said it became normal to see dozens of coffins carried through their town each week.
"When you're out there, you see things you can't unsee. It depresses you and darkens your heart. It's why so many people living here have lost hope. They've seen too much to believe in a bright future," he said.
On our last day before flying out, my husband and I decided to visit the shrine of Imam Ali one last time. After I finished my prayers, while sitting in front of the golden gates leading into the shrine, I saw five coffins being carried through the mosque.
They were bodies of young soldiers. I watched on as their family members cried and lamented. One woman screamed: "When will it end?"
I realised why the people I met in Iraq are the way they are. It's not that Iraqis are not welcoming, as their hospitality is truly unmatched. Nor is it that they don't love their country or take pride in it. It is because 40 years of war, conflict, and death hardens the heart.
It was foolish of me to assume from my position of privilege, and life of comfort and safety, that my hopes and dreams for Iraq would be shared among all Iraqis.
Is Iraq as beautiful as I imagined? Yes. Are Iraqi people trying their best under the circumstances? Without a doubt.
My trip to Iraq was a rude awakening and although I respect and can understand why some see others like me as traitors or as westerners, it won't change the fact that I love Iraq and will continue to take pride in it. But Australia will continue to be my home.
The Point
Reporter, Widyan Fares, returns 'home' to Iraq for the first time and begins to question her identity.