A fashion label with a difference
Tucked away on Newtown's King Street, you would be forgiven if you mistook The Social Outfit for any other boutique fashion label with its trendy interior design, chic garments, beautiful prints and delicate fabrics. But this is a fashion label with a difference.
A few years ago, The Social Outfit chief executive officer Jackie Ruddock held a workshop at Fairfield High School with young people from migrant and refugee backgrounds. She asked how many of them had a family member who could sew? Every student in the room put their hand up. She then asked how many of the younger generation had had sewn before. No one had.
And so, the idea behind The Social Outfit was sown. Ruddock tells The Point Magazine that the registered charity and social enterprise trains people from migrant and refugee backgrounds in sewing.
"Many new migrants have really rich traditions of sewing," she says.
"What we seek to do is use the expertise of sewing to provide a pathway to ongoing employment and training."
The Social Outfit is a registered charity and works closely together with a sister organisation in Melbourne to offer a suite of outreach programs including training and employment in clothing production, retail, design and marketing.
"We work particularly in areas of western Sydney providing sewing expertise and training which is with local community groups. We also provide sewing training here on site," said Ruddock.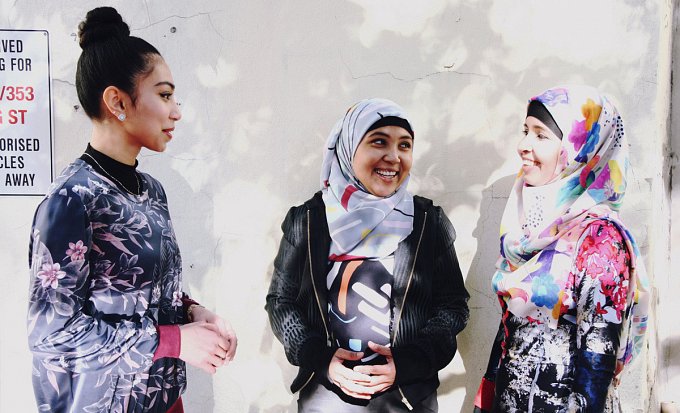 Photo by Anna Kucera
The organisation has now successfully worked with migrants and refugees from over 21 countries to date, and engaged with over 80 people. The sewing technicians are trained in-house and produce 100% ethical garments.
"We provide a creative space where people can use strengths that they already have in sewing and creativity, and use that as a platform to celebrate a proudly multicultural Australia," says Ruddock.
Around half of the fabrics The Social Outfit uses are excess fabrics donated from the fashion industry which would otherwise go to landfill.
"We want to make quality products, but we also want to be a quality organisation and the way that we show that is seeking to be ethical at every step of what you do."
The Social Outfit also works with talented members of its community as well as Australian fashion designers to create the beautiful, one-off prints found only in their label.
A member of the retail team, who preferred not to be named, says working at The Social Outfit for more than a year made her feel like she added real value to the team.
"I have so much confidence and satisfaction… My successes are pleasing to my family, both here and in my home country," she said.
Ruddock says the organisation's program help build skills and confidence over time, which in turn ultimately addresses a universal desire to participate meaningfully in society.
"It is a human need, not exclusive to new migrants or refugees… we know these social programs provide meaningful participation that build skills and confidence over time.
"Securing employment is obviously the biggest goal you can go for, but that's a longer-term goal. We are trying to skill up people to start their micro-enterprises, work more with their community and have the confidence to go onto other employment or training opportunities."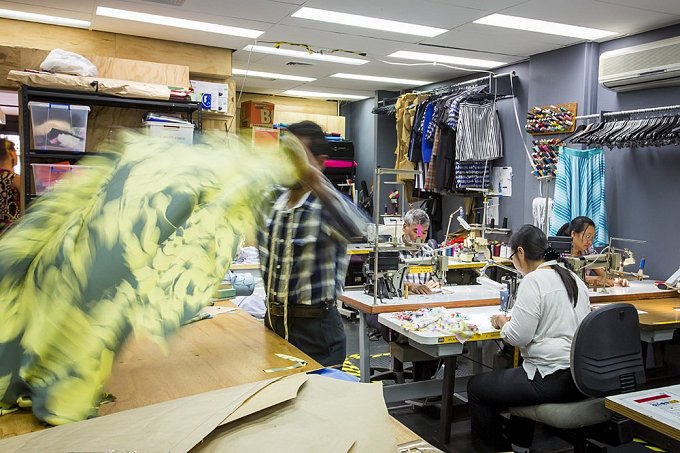 Photo by Anna Kucera
The Social Outfit also sees itself as playing an educational role in informing their employees about the complex world of Australian industrial relations. They explain their employees' rights and responsibilities at work, pay rates, superannuation and how to understand workplace culture.
"Through lived experience and research it is clear that there is potential for socially marginalised communities to be engaged in employment and training without knowing the full facts. It just makes sense when people start with us that we seek to explain all the different facets of employment in Australia," says Ruddock.
For its second anniversary collection, the organisation worked with newly arrived young people from Fairfield High School on an eight-week collaborative project. The final product was the 'Fairfield High School print' which was used in their garments.
"What our customers tell us about [the custom designed prints] is that they are incredibly fun and bright prints. When you are wearing a top and someone says 'I love that' and you get to explain the wonderful story again of coming together to celebrate our creativity."
Sydneysiders have jumped on board supporting The Social Outfit, with a quarter of the organisation's revenue coming from garments sold. The main source of revenue still relies on independent grants and donations.
"We seek to keep our community focus at the forefront and make beautiful clothes that Sydneysiders will want to buy."
With the launch of its online store, Ruddock said she was excited about expanding the customer base around Australia and internationally.
The Point
This fashionable social enterprise trains people from migrant and refugee backgrounds in sewing.