The Human Sound Project
The Point Magazine tunes in to The Human Sound Project, one man's musical initiative to overcome conflict in places as diverse as Capetown, Jerusalem, Granville and Cronulla.
In 2014, Simon Jankelson travelled to East Jerusalem just after the region had experienced three separate terrorist attacks.
"Everyone said don't go to East Jerusalem. The region was part of the Israeli-Palestinian Municipality where a light railway had just been put through from East to West. Many people found the railway convenient and it helped people commute to work, as many people have to cross zones. But many people were upset by it."
Months before, a Palestinian driver rammed into a crowded train station in Jerusalem on Wednesday, killing an infant girl and wounding eight other people, including her parents, in what police called a terrorist act. The attack was one of a number of violent attacks from both sides, including the controversial and unproved lynching of Palestinian bus driver Yusuf Hasan al-Ramouni.
"Music can be a great leveller as everyone is so naked."

– Simon Jankelson
"No one was in the mood for 'inter-cultural' work," said Jankelson.
But Jankelson found one school, "The Promise School" in the Arab suburb of Beit Hanina, East Jerusalem – which was located close to the light rail.
"So I asked them, what does it mean to live at this time in Jerusalem to them? This was a time when something like making music felt even more important. And we expressed this into song."
"As soon as I entered this school, it felt like paradise; the teachers, the students, there was a great feeling. This was a school that also taught the Palestinian kids the Israeli syllabus, as the principal said she just wanted these kids to have the best opportunities open to them."
Young Palestinian people in East Jerusalem tell their story through song
Young people affected by HIV, healing through music in township in Cape Town, South Africa
This is one of the ventures that make up the Human Sound Project. As Jankelson puts it, the project is about a "global call for connectivity by empowering groups of all sizes, cultures and musical skill levels to come together and co-create songs about their stories."
In short, he creates a participatory music making process that is not restricted to the musically gifted.

"No matter what level people are at we can bring it together and create a song together."
Jankelson says the project has taken him into many conflict zones. His project has worked with various NGO and private groups in Sao Paulo, Capetown, Jerusalem, and this year they were part of 2016 Sydney VIVID
"In many ways these trips were about reconciling parts of my own personal story."
Simon Jankelson was born in Capetown, South Africa, and his family left the same year Apartheid ended in 1994.
"I also have cousins in Israel. And I think when you are there, these questions become alive. For example, being on a beach in Tel A Viv when there was so much suffering nearby made just no sense."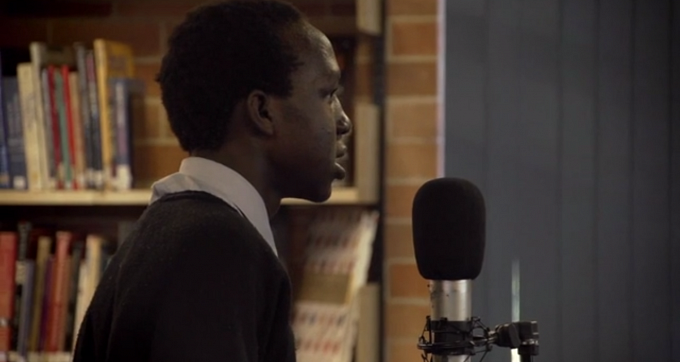 Kids from Granville Boys and Cronulla High coming together to make music in Sydney, Australia
Jankelson says the idea came to him when he was living in the United States.
"I had finished up in a band and I was living in America and thinking about who I could collaborate with next. And I was experimenting every week with chanting, blessings, body percussion and recording and I realised in a way everyone is a potential musician. After one year of experimenting with these forms, a methodology was formed."
This methodology works to combines musical expressions in a live group setting, with interactive technologies, to create accessible ways for groups to come together and create songs. The final song is created as a musical reflection of the group's "collective story".
This song is shared with the wider-community.
The project has two arms; one for organisations and schools and the other not for profit side is to contribute to the 'Global Song Project', shared on the website.
In 2014, he paired with Rabbi Zalman Kastel, the National Director of Together for Humanity to be part of schools program between Granville Boys and Cronulla High. It was almost a decade after the Cronulla riots and stereotypes and work still needed to be done.
"I had never worked with fifteen year olds so I was nervous.
In 2015, he was asked to return to Jerusalem at the behest of Creativity for Peace, an organisation that runs leadership and reconciliation work for Israeli-Palestinian women and uses art practices to engage them. The women had been working with each other for the past year, sharing their experiences.
One of the lines in collective story song goes, "Sitting in a circle, full of cries."
Jankelson says this was a result of many days where these women just wept with each other.
"These were women who had grown up being told to hate each other. And they just cried and cried." As Jankelson says, "Music can be a great leveller as everyone is so naked."
The Point
The Human Sound Project is one man's musical initiative to overcome conflict in places as diverse as Capetown, Jerusalem, Granville and Cronulla.