New detention laws to delay release of Pendennis terror cell leader
The imminent release of convicted high profile terrorist, Melbourne-based terror cell leader Abdul Nacer Benbrika, has prompted calls for new laws to keep extremist prisoners behind bars beyond the term of their sentence, according to Australia's leading counter terrorism expert.
In the latest proposal to bolster Australia's counter terrorism laws, the Prime Minister has called on states and territories to agree on tough new post-sentence detention measures to hold convicted terrorists in jail.
The proposal would introduce laws similar to those used to keep convicted sex offenders and serious violent offenders behind bars. It would involve periodic reviews of the risk a prisoner could pose if released back into the community.
"It will of course only apply to individuals who, as they approach the end of a sentence of imprisonment, continue to pose an unacceptably high risk to the community because of their failure to be rehabilitated as a result of a penal sentence," Attorney General George Brandis said at a press conference last month.
The proposal comes as Benbrika, leader of a foiled 2005 plot to bomb the AFL Grand Final at Melbourne's MCG, is due to face a parole hearing in 2017. Benbrika was sentenced to 15 years in jail following what was then Australia's biggest ever counter terrorism investigation, Operation Pendennis, which exposed a terror network operating across Sydney and Melbourne. He has currently served his twelve-year non-parole period.
"The upcoming parole hearing of Benbrika is the main reason to usher these laws in," Professor Greg Barton, counter terrorism expert at Deakin University, told The Point Magazine.
"After the (ISIS) declaration for Caliphate in 2014, (Benbrika's) popularity has soared. Authorities are convinced that if he were released he would continue to influence people"

– Professor Greg Barton
Nicola McGarrity, a senior law lecturer law at the University of New South Wales, said post-sentence detention raises concerns about procedural fairness and double punishment.
"Indefinite detention violates the fundamental nature of our laws, 'you commit the crime and do the time.' Our laws are premised on the idea that we rehabilitate. In the terror context, its seems like we are moving away from this idea, which is a concern,' McGarrity told The Point Magazine.
The proposal also comes after a recent appeal by the NSW Government to delay the release of Ahmed Elomar, who has served three years in Goulburn jail for assaulting a police officer during the 2012 Hyde Park riots.
Elomar is the brother of Mohamed Elomar, an Australian who was killed fighting for ISIS in Syria. He is also the nephew of Mohamed Ali Elomar, who is serving 21 years in Goulburn Supermax prison for his central role in the Pendennis plot.
Barton said that ever since ISIS declared its so-called "Caliphate", convicted terrorists have experienced a spike in popularity within the prison system, further strengthening their influence on other prisoners.
"Benbrika was not influential at the time of his sentencing, but now he has become a highly sought after person for prison visits from people seeking his advice. After the declaration for Caliphate in 2014, his popularity has soared. Authorities are convinced that if he were released he would continue to influence people," Barton said.
Barton said the fear of convicted terrorists re-offending is not an abstract scenario. He pointed to the case of notorious Australian terrorist Khaled Sharrouf, who was released from Goulburn prison after serving nearly four years for his role in the Pendennis case, only to flee Australia in December 2013 to join ISIS in Syria.
Sharrouf gained global infamy when he uploaded graphic pictures of his young son holding a severed head on social media. He reportedly visited Elomar in prison several times before fleeing Australia on his brother's passport.
Cases like Sharrouf's justify extended jail terms for terrorists, Barton said.
"There have been about sixteen police operations in the past two years with 44 people arrested and charged under terrorism laws. Often when cases are prosecuted, the actual charges will be very slight, around five years or less. Which means they receive a short sentence and then can often become more radicalised in prison. This is a new problem, that these laws are reacting to.
McGarrity questions the comparison between existing detention laws for sex offenders and those proposed for convicted terrorists.
"How do they justify if a terrorist is rehabilitated or de-radicalised? For determining (extended detention) for sex offenders there is some insight and medical insight into the case. In the terrorism context it is subjective, and politically sensitive, and just how one determines their threat will be very hard to challenge. We can't just import from one regime across to the next."
Barton said risk assessment for violent extremists is taking place in prisons.
"There have been many cases where people charged on terrorism charges have faked it afterwards. It is tricky but now at least there is some degree of prior knowledge to make assessments. It is not just a punitive measure," he said.
McGarrity said while post-sentence detention makes sense when looking at particular cases like Benbrika, she is concerned about what it could mean for cases involving younger perpetrators.
"When we start looking at younger convicted terrorists who are becoming more of the 'terrorist' profile is where it (post-sentence detention) starts to feel a bit less justified".
"The newer profile tends to be young people with families or ties to community, who are second or third generation Australians. They are relatively uneducated, unskilled trades and tend to have limited religious education and that gap has made them prime targets for… extremist ideology."
"Once you recognise this is the type – it becomes clear there are rehabilitation tools we need to explore, like religious re-education, and upskills training, to remedy some of the conditions and concentrate on those, rather than a new legislative regime that hangs them in there for long time. It feels like a give up mentality for teenagers."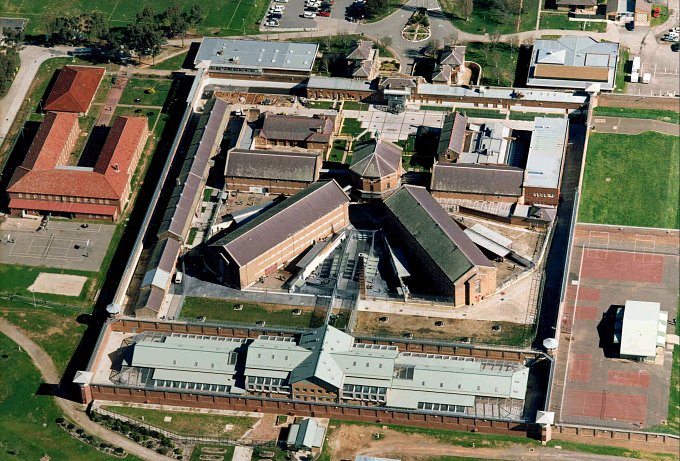 The Goulburn Supermax Correctional Centre
Barton said alternative measures, such as control orders, could be used to keep teenagers out of detention while also keeping them away from known extremist influencers. He said a new control order regime, introduced after the 2015 Parramatta shooting of Curtis Cheng by fifteen-year-old Farhad Jabar, allows control orders to be used on people as young as fourteen.
"These laws were almost never used until recently young teenagers, especially an acute problem with recruiter networks targeting young people in western Sydney."
Barton said while it remains to be seen what safeguards would be put in place, the proposal for post-sentence detention appears well considered and has secured strong bi-partisan support.
The Point
Tough new post-sentence detention measures may hold convicted terrorists in jail