Portraits from Sydney's Auburn
A series of portraits of refugees taken in Sydney's suburb of Auburn, by photographer George Voulgaropoulos.
A woman of Turkish background has just married a newly arrived refugee from Afghanistan. It was bound to happen in Auburn!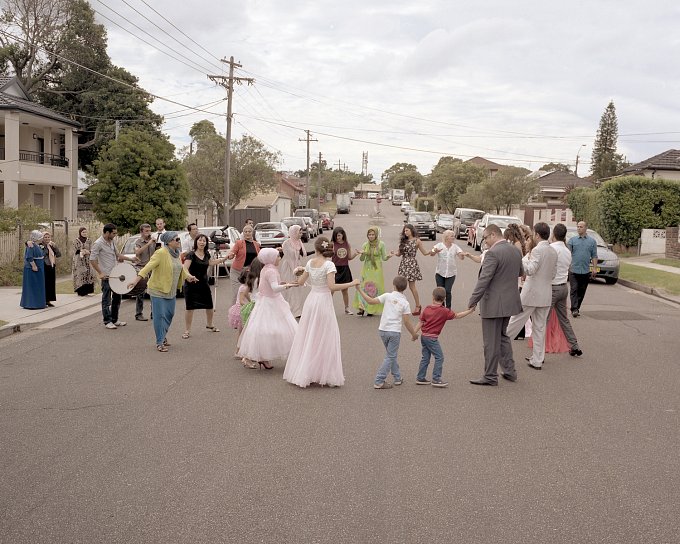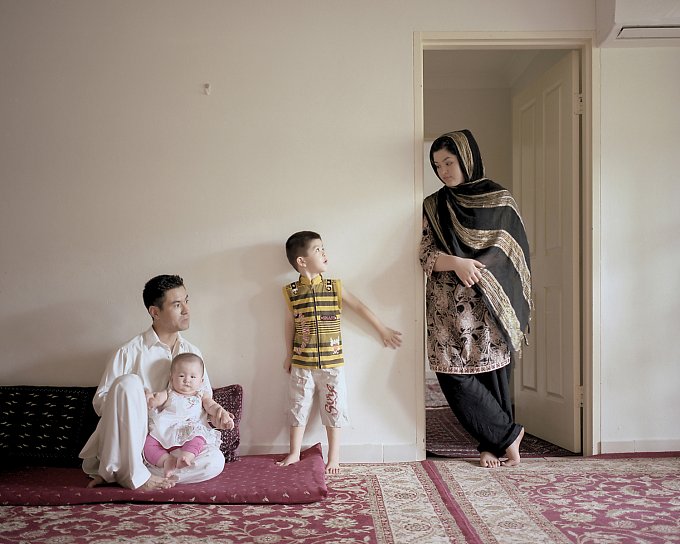 Hassan Rezayee is holding his daughter Roshni, his wife Fatima, and son Moeez.
Hassan and his family are Hazara refugees from Afghanistan and have settled in Auburn. Hassan runs an organisation called Human Care Welfare. The services offered include English language classes for other Hazara refugees and he wants to do more to help resettle refugees.


Beatrice Sesay. Refugee from Sierra Leone
Beatrice has achieved great things since her arrival on Australia Day. She has played an important role in supporting the community, both through her previous role as an Employment Officer at Auburn Diversity Services Inc, and her current work in Community Development at Holroyd City Council. She also volunteers with the Sierra Leonean Women's Wan Word Organisation, the Auburn Small Community Organisation Network, and assists with various community events. She has been nominated as the 'Local Citizen of the Year'.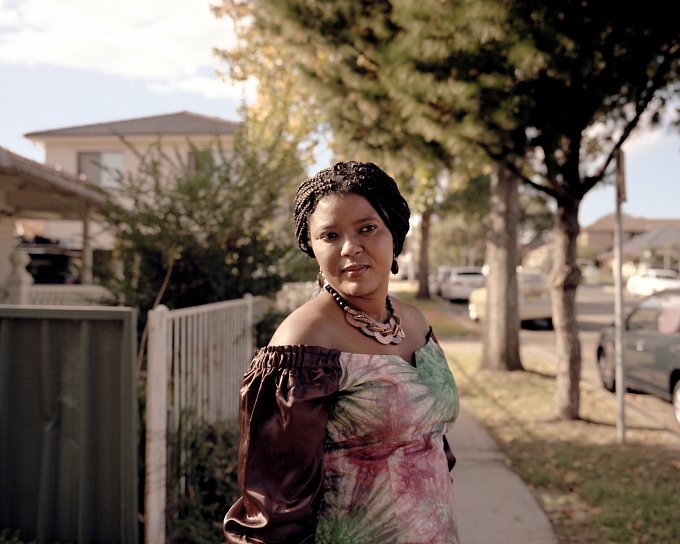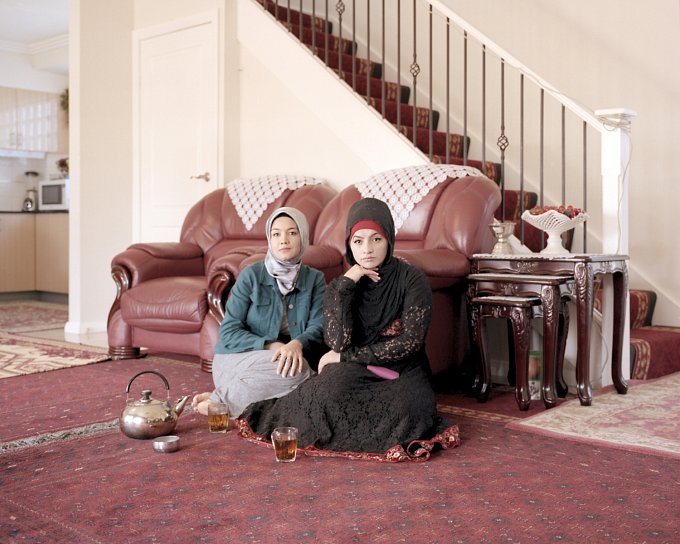 Bibi Goul Mossavi & Shamsia Moosawi. Refugees from Afghanistan
Bibi Goul and Shamsia are cousins and have had the same journey escaping from Afghanistan. They spent many years in refugee camps in Pakistan before finally making it to Australia.They are all heavily involved in volunteering and supporting the community and are all closely associated with the local community organisation the 'Australian Afghan Hassanian Youth Association' (AAHYA


Santino Yuot. Refugee from South Sudan
Santino has been very active in the local community since his arrival in Australia many years ago. He has established the Dinka Literary Association, a group that aims to keep the Dinka language alive and teach it to young generations of Sudanese Australians. He has also published a Dinka-English picture dictionary. He is the Reverend at a local church and is also a member of the Auburn Small Community Organisation Network assisting with community events and programs. Santino also plays an integral role in establishing community facilities in South Sudan including schools and hospitals.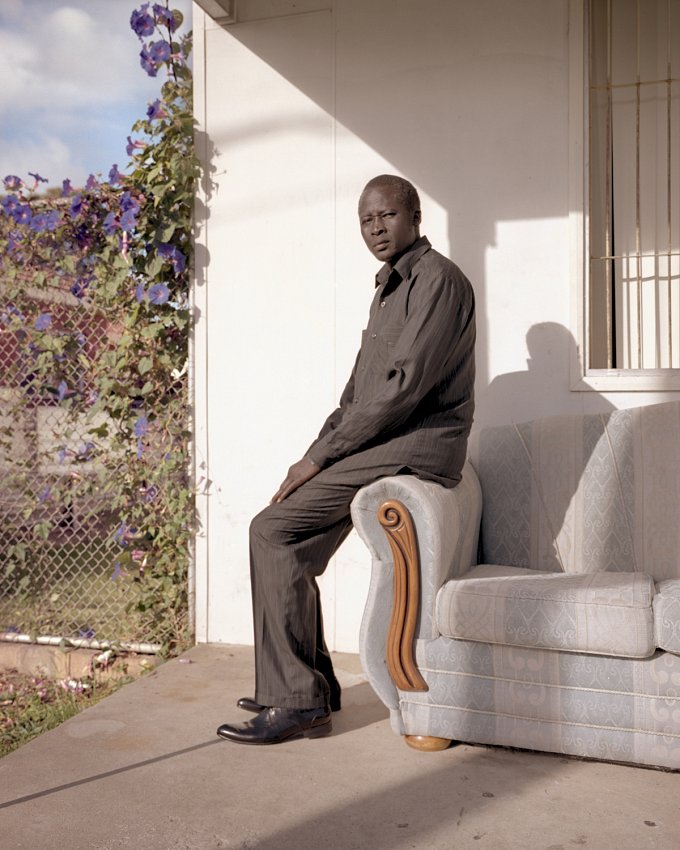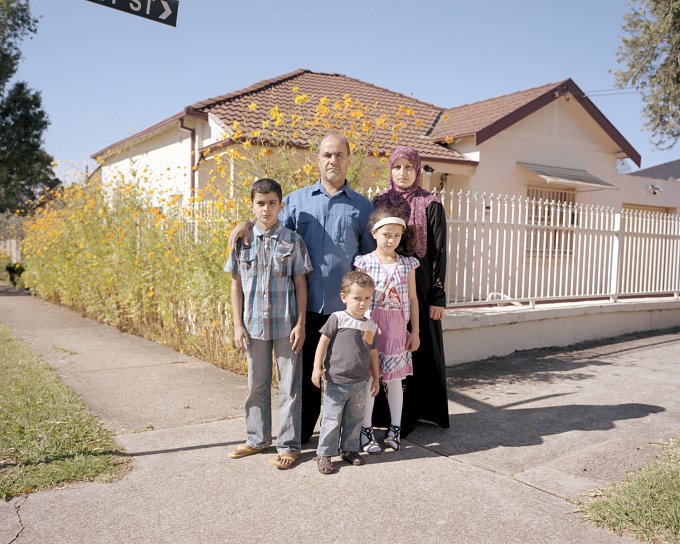 Ghassan Alassadi. Refugee from Iraq
Ghassan is an integral member of the local community, and is heavily involved with community based projects, such as 'Community Pride' and 'Clean Up Australia Day'.
He was one of the first to participate in community building activities and is always encouraging others to join. Ghassan also provides invaluable support to new settlers in the Iraqi and wider community. He volunteers his time to offer translation, administration and other basic support services to newly arrived migrants and refugees, and provides a free and ongoing Justice of the Peace service to all members of the public. He has been nominated as Auburn's 'Local Citizen of the Year' on three occasions and was also interviewed by 'A Current Affair' last year as part of their Australia Day show.
The Point
Portraits of refugees in Sydney's South Western Suburb of Auburn