Young women countering violent extremism in Libya
In a one-on-one interview, Hajer Sharief tells The Point Magazine about the current Libyan crisis, how young people are being impacted, and her response to critics of countering violent extremism.
Following the Libyan civil war of 2011 Hajer Sharief co-founded 'Together We Build it' organisation, which aims to promote the inclusion of women and young people in peace building and conflict resolution in Libya.
In 2014, after the armed group assassination of her co-worker, 17 year-old blogger, advocacy worker and friend Tawfik Bensaoud, Sharief was inspired to play a more active role in peace building within Libya.
Today, Sharief is part of the Kofi Annan Foundation, an initiative started by the former Secretary General of the United Nations. Among other things, the organisation established an initiative called 'Extremely Together' where ten youth activists from all across the globe advocate for the role of youth in countering violent extremism.
Believe it or not, it's much easier to work with people in communities affected by violent extremism than working with those who are way far away from these communities and work professionally in countering violent extremism.

– Hajer Sharief
Why did you decide to work in countering violent extremism? What motivates your work?
Following the 2011 armed conflict in Libya and witnessing a peaceful society turn into a violent one, made me realise that, countering violent extremism is a perspective we need to adopt in our lives starting from our education to conflict resolution and peacebuilding. A wake up call for me was when I volunteered to work at Tripoli Central hospital, during the Libyan civil war, when I saw victims from both sides of the conflict ended up in same room in the hospital. The victims from both sides fought each other for couple of months, just because they had different political beliefs. But in the end the consequences of the practice united them, as they both ended up with the same tragic condition in the same hospital room.
What is the aim of your organisation 'Together We Build It'?
'Together We Build It' has been running since 2011, supporting the democratic transition in Libya, by emphasising the role of women and youth non-violent conflict resolution. We train community activists and youth leaders to raise awareness of how to address violence on all levels; family, community and national level. We engage and work with young women towards making them challenge stereotyped position as 'vulnerable women' in the community, and encourage them to play an active role in the context of peace building within their own communities.
What is the aim of your work? Tell me about the work your do specifically in Libya?
I engage with national and international decision makers on the importance of including women and youth in peacebuilding. This starts with designing strategies and policies to counter violent extremism and implementing peace agreements and conflict prevention programs. A huge part of my work is to build a bridge between local initiatives on the ground on peace building and countering violent extremism on a policy level as I truly believe that if we desire sustainable peace, then both must collaborate with each other, as both complement each other.
Many people believe countering violent extremism is ineffective, what do you say to such critics?
I think it depends on how people look at the issue of violent extremism and from which perspective they are looking at it. If we will look at some of the policies and initiatives to counter violent extremism that are mainly designed to target specific groups based on religious beliefs or on ethnic background, then I totally agree with them.
Unfortunately, some counter violent extremism narratives focus on 'criminalising the people rather than criminalising the action'. This naturally can make makes millions of people feel insecure. And when someone feels insecure, they will strike against you. This is what's happening with policies and initiatives that counter violent extremism. They don't get the support of the local community they are targeting. However, detractors should play an active role in developing and implementing the counter violent extremism narratives, or at least provide input and feedback to how to improve it. If they feel something isn't working, then all the more reason to engage and do something about it.
In your view, what is the best way to counter violent extremism?
Again 'countering violent extremism' is a perspective that should be adopted in all aspects of life. For example, in schools, kids are being taught that they should be proud of their grandfathers for winning wars against another nation, this includes invading other lands, killing people from other nations and so on. This is a promotion of violent extremism. It justifies the use of violence, and when the kids grow up they will think such a history and actions are acceptable because they were taught, that in some contexts being violent is something to be proud of. World leaders should start with themselves and stop promoting violent conflict resolutions as a way to promote peace, because peace is not just the end result of war, it's much more.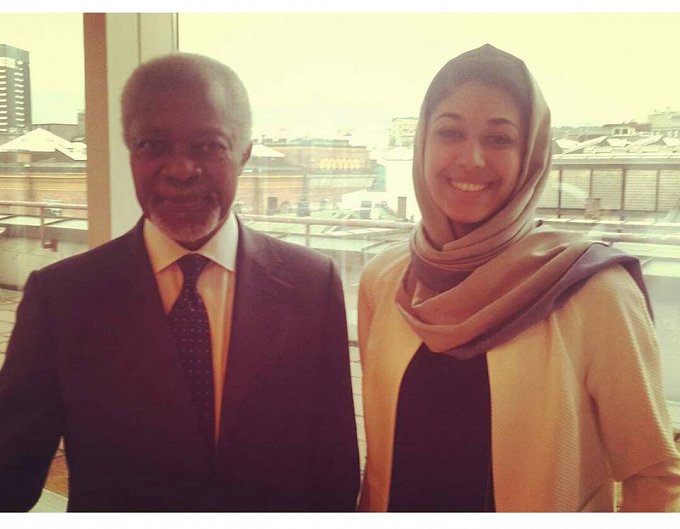 How involved should not only young people, but also young women be when countering violent extremism and peace building?
Adopting a gender perspective in peacebuilding and countering violent extremism means having the whole society in one image. One of the benefits women have is they understand men's anger and they are very good observers as to what goes in their communities and what triggers exist. By including women in developing countering violent extremism narratives and in designing and implementing peace building strategies, we can get to a point where we will celebrate successful preventative models.
What been your greatest challenge in the area of countering violent extremism?
The greatest challenge is trying to change the wrong narrative that is developed by people who don't understand what countering violent extremism is about. Believe it or not, it's much easier to work with people in communities affected by violent extremism than working with those who are way far away from these communities and work professionally in countering violent extremism.
People in communities affected by violent extremism are willing to work towards reducing the violence in their community by addressing the root cause of the violence. While often for the political leadership of the international community, they are seeking to develop and establish practical mechanisms that they can implement in the short term.
How are young people in Libya been affected by violent extremism?
The effect of violent extremism on Libyan youth varies from bad to worse. The 'bad' starts with the students who can't continue their education because their university was completely destroyed by the war, or they had to flee their homes, or become displaced in camps where there's no means of transportation. While the 'worse' can reach levels for example of being kidnapped or assassinated.
This is something that happened to my dear friend Tawfik Bensaoud. Tawfik was a young peace-building activist who was assassinated at age of seventeen by an armed group while he was driving with his friends. Twafik Bensaoud, was and still the role model of how youth are endlessly harmed while promoting peace building.
What are some non-government initiatives taking place that deal with the issue of violent extremism?
One example of what the 'Together We Build it' organisation does is we have the 1,325 network project, where we work on a bilateral approach. Firstly, we raise awareness of the local community to reduce violence on all levels. Secondly, we work at a family level, community level and national policy level. The organisation delivers training to community activists and leaders on how to reduce violence. It also works towards making women question the 'traditional' position of women in the community and to envisage an active role in the context of peace building as opposed to feeling invisible and disempowered.
Of course there are many initiatives in Libya, but also abroad where activists and organizations are doing tremendous efforts to promote peace-building, non-violent conflict resolutions through different means; through social activism, while others use music and sports.
The Point
Hajer Sharief talks Libyan crisis, how young people are being impacted by violent extremism, and her response to critics of CVE.
Author Note
Video credit: Women's Peacemakers program