A musical tale of freedom
To mark Refugee Week earlier this month, The Point Magazine's Widyan Fares was invited to the home of singer, songwriter and Sudanese refugee Yasmin Ibrahim Mohamed. Yasmin recently performed at The New Beginnings Refugee Arts and Cultural Festival in Sydney. Now, sitting in her humble Narwee home in Sydney's West, Yasmin tells her story of struggle, and how she found the power of music to heal. This is her story.
"Do I miss Sudan?" her eyes are fixed on the ground as she ponders the question aloud.
"I think about the situation there and I feel like we're still connected to Sudan. What's happening there is absolutely affecting us in a positive and negative way. There are people suffering from poverty and war. You kind of feel helpless. That feeling is debilitating."
Yasmin Ibrahim Mohamed is a forty-two-year-old mother and singer and songwriter. Her family fled Sudan to Egypt in 2003.
She says that although she feels a complex torrent of emotions, like guilt and nostalgia towards Sudan, she has learnt to heal through her music.
"I write and compose songs or I inspire myself through poems from back home and I use those lyrics to inspire new music. Sometimes I try to spread these messages through my music through media."
Mohamed holds a Bachelor and Masters degree from Sudan in veterinary science, and although she tried to further her studies after arriving to Australia, her prior qualifications weren't recognised.
"When I hear these things, I put my hand on my heart and think look how unique we are in Australia. The multiculturalism here and the contribution of migrants and refugees are amazing."
"I was trying to pursue my career as a vet, but my children were little and we had to move into a rural area and so my family came first.""
Signing and song-writing has long been Mohamed's passion, dating back to her childhood years where she grew up in an artistic family.
"I used to sing in Egypt and I joined a university Sudanese choir, and when I finished university in Egypt and went back to Sudan, I was thinking of developing my veterinary skills more, but my friends who thought I was a great singer pushed me to join a popular band in Sudan and that group needed a singer at the time and I did an audition and I got the job. Everything changed after that."
After arriving to Australia with her husband and children, Mohamed found herself needing to start her life from scratch, including her singing career.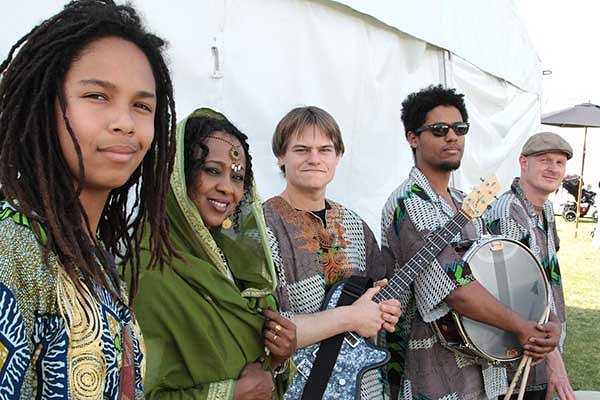 She now sings about politics, social issues and Australia.
"The biggest difference between singing in Sudan and singing in Australia is that I needed to establish myself. I needed to think about what messages I wanted to deliver and what type of music I was going to sing. In Sudan, I had direct contact with my people and a lot more media exposure. Here, I not only had to compete but I had to establish those connections to the audience."
Mohamed says the current debate around migration and refugees has been heartbreaking to witness.
"When I hear these things, I put my hand on my heart and think look how unique we are in Australia. The multiculturalism here and the contribution of migrants and refugees are amazing."
For Mohamed, migrants and refugees offer far more than just economic benefits.
"We contribute in all aspects including cultural and educational and I would say Australia is an amazing example for the world. We can't deny the rich aspects of life that are developing because of migrants and refugees. We can't talk about them as if they are a separate group. They are people and they have amazing heritage and cultures and language and we are blessed we have this here in Australia."
Mohamed says she is proud to see her children growing up in a diverse society.
"I feel like it's a healthy environment for children to grow up in. Multiculturalism and diversity teaches them a lot about people, the word and life in general. It's truly an education."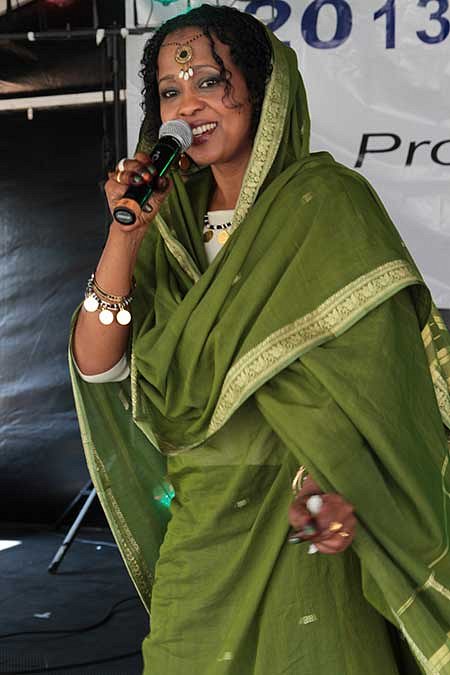 Mohamed had mixed emotions after she returned to Sudan recently for the first time.
"When I saw my mum and family we cried in the airport. I had a sense of satisfaction after seeing my family and feeling reassured that they're okay. While I was there, I had a lot of time for reflection and went back to singing in Sudan. It was a bit of showcase for what I had been doing in Australia. I had a great reaction from people back home. People were shocked at how much you could do as a refugee. It was amazing."
Mohamed says she's got high hopes for the future of Sudan and for herself.
"Sometimes my family and I talk about our big dreams, even if they're imaginary. But then reality hits us and we then make sure that we're realistic. In terms of music I'm always learning from my journey and my process because your journey never stops when you arrive to a country as a refugee. We're still not properly settled there's still so much more we want to give."
"I'm seeing myself gaining more experience and performing my music and Sudanese music all over the world. I want the world to recognise Sudanese music."
She pauses. "For Sudan…there's a lot that I want for it."
"No wars, no wars, no genocide, no more torture, no more prisons. Just freedom and peace. That's all that I ask for. There's a gap between here and there, and people should be aware of what's happening around the world as its it's affecting Australians here."
The Point
How music helped heal a refugee in her new life.