Decolonising the creative industries in Australia
A couple of years ago I finished a PhD project at Western Sydney University that looked at how a specific subset of young Arab-Australian men from Sydney's West, develop their own creative ambitions. My findings revealed that the youth-to-adulthood transition is much more intensely experienced by young people of ethnic minority and socio-economically disadvantaged backgrounds.
Arab-Australian young men with creative vocational aspirations who come from socio-economic disadvantage, from migrant backgrounds and as 'demonized' young people, do not simply pursue creative aspirations without engaging, to varying degrees, with questions of ethnicity, masculinity and social class.

In my study, I conducted life history interviews with 22 aspiring artists, all of whom came from Bankstown in South-West Sydney, and its surrounds. They were all young men between 18-30 years of age who were trying desperately to forge a creative career with very little awareness of how to actually do so.

They all spoke of consistent discrimination or prejudice on racial grounds; they were asked to change their names by employers or deny their religious beliefs. They were outcasts in at university, especially those in Fine Arts degrees, for their inability to cultivate a uniquely 'weird' style required of aspiring creatives. Conversely, many were called upon to use their artistic skills to feed into multicultural programs rather than being given the chance to create 'art for arts sake'.
Not least of all they were unable to participate in the kinds of social networking practices needed to improve their chances of finding employment because 1) they simply did not know where to look and 2) these social practices usually involved drinking or partying which all the young men in my study shied away from out of a fear of disrespecting their families and jeopardising the familial project of social mobility.

Many of those from non-white ethnic minority backgrounds have felt some of these tensions in their personal lives at one point or another, or know someone who has.
Creative work in particular is presented to all young people as exciting, sexy and fun, but the harsh realities of competition, widespread exploitation and underemployment mean that only a small number of youth will persevere with their youthful creative aspirations, often with the financial help of their families. It is a familiar tale.
Early on in my research, however, I attended as many community-based events as I could to get a sense of where the emerging artists are and what kinds of spaces are offered to ethnic-minority youth to perform their stories. Some were organic, well-thought out programs developed by local artists for other emerging artists like the hip hop workshops offered through Information and Cultural Exchange in Sydney. Other events, however, were top down programs that did not work with developing talents. Again, this is a familiar tale that many struggle within the arts sector.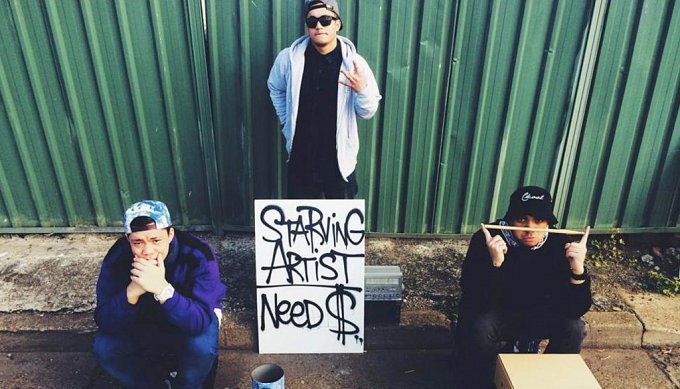 Image from a project with Information Cultural Exchange in Sydney
On the face of it, we might ask, how can it be wrong for the arts and social justice to come together? But when we look more closely I found the kind of people who are unpaid and overworked in this model tend to be young or working class or non-white. American writer and activist and co-founder of Against Equality, Yasmin Nair, talks about how the blending of arts and social justice in contemporary urban Western cities has become another axis of exploitation of 'ethnic' artists.
"The current fetishization of hip hop amongst mostly white funders comes with the fetishization and commodification of black youth as authentic poets of their generation. There are few things as uncomfortable as sitting amongst white social justice activists nodding to themselves in a self-congratulatory fashion as a black teenager stands on a stage and speaks to the troubles of his or her neighborhood. What is ignored is the fact that the youth are being locked into a performativity that requires them to speak about their experiences but does not take them anywhere near the apparatus that could dismantle systemic oppression."
One thing my research confirmed is that as second and third generations of Arab-Australians are coming of age, a new, youthful diasporic community that values the arts and its' transformative capabilities is emerging.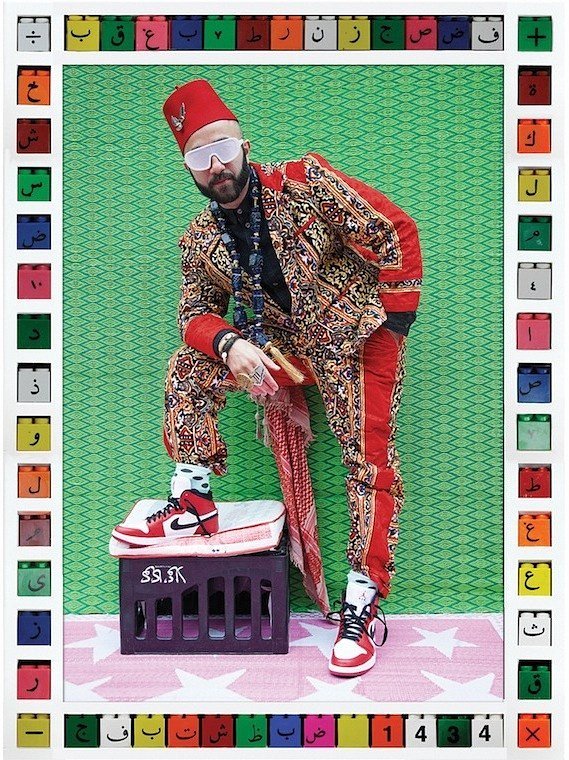 Yassin Alsalman, artistically known as Narcy, formerly The Narcicyst, is a hip-hop and multimedia artist of Iraqi origin, who grew up in the UAE and Montreal.
At Information and Cultural Exchange, for example, I witnessed Canadian-Iraqi hip hop artist 'Narcy' use his platform as a mentor to aspiring emcee's to bring awareness to the lack of representation of non-European, non Western ways of thinking in the higher education system and how hip hop can fill that void. When I spoke to the young people who had performed that evening, all told me they were incredibly inspired to not only pursue music but to recognise and challenge systemic racism that they see in their everyday lives.
In defiance of older generations of migrants and outside of the mainstream creative sector that offers little space for alternative voices, Arab-Australian aspiring artists are beginning to stake their claim. The risks, for many of them, are high and longevity in these industries is often unsustainable. However, the experience of racialization and dealing with respectability politics in their own communities has fuelled many young people to create their own version of a creative identity and, moreover, it has propelled some of them to challenge the white hegemony of Australian arts scenes and demand for decolonisation.

Bankstown Poetry Slam, affectionately known as the Slam in the local community, has become hugely popular, enabling young spoken-word poets, including some of my students at Western Sydney University, to speak about taboo subjects like pre-marital sex, homosexuality and domestic violence in a safe, supportive environment. It is an exciting time as the tide shifts as these young people will no longer stand to be the object of study but instead to be the producers of their own creative projects.
The Point
How do young Arab-Australian men from Sydney's West, develop their own creative ambitions.