'The Militant Spring' and violent extremism in Egypt
Are Muslim leaders speaking out enough against violent extremism? This ignorant and insulting question seems to surface time and again in the Australian context, reflecting the often low standards of debate about violent extremism in this country. Anyone who knows anything about the issue knows that senior Islamic scholars from around the world have been leading the theological fight against ISIS.
Dr Ibrahim Negm is the senior advisor and official spokesperson of the Grand Mufti of Egypt. He studied theology at Oxford University and works at Daar A Ifta. In a exclusive interview with The Point Magazine during his recent visit to Australia, Dr Negm reflects on his work on violent extremism and the Egyptian experience of "The Militant Spring".
"In the Egyptian case, we don't regard non-Muslims as a minority, we regard them as family."

– Dr Negm
What has the mufti in Egypt done to counter violent extremism?
Daar Al Ifta is the premier institution in Egypt for Islamic legal interpretation and issuing fatwas, and it basically has taken four major steps in combating radicalisation and violent extremism.
The first is the 'radical fatwa watch' with the purpose of monitoring fatwas online and measuring the impact of these fatwas and putting out a counter narrative. We issue corrections and alerts to warn people of such false fatwas.
Secondly, we have a strong presence on social media. Our Daar Al Iftah Facebook page has three million plus fans and a weekly reach of about five million. We have also put together a hard copy magazine to counter 'Dabbiq' the ISIS magazine. Our magazine is called 'INSIGHT'. This magazine is also available online and in English. We also published an encyclopaedia of radical groups, that is in Arabic and we have a shorter version in English.
Some critics argue that no matter what religious leaders say or do, young people who wish to fight for groups like ISIS won't listen to such leaders. Is there a religious leadership crisis in the Arab world?
It's a partnership between religious leaders, government, media, civic organisations and education systems, including the arts and sports. It is different from one nation to another. We know that the issue of countering violent extremism won't be over soon, we know it requires time and steadfastness. Of course what you speak about is applicable to Western countries, where you don't have a central authority for religious scholarship and so you can say that there is a crisis of leadership in the Western world. The leadership is not up to scratch. There's also a communication crisis where religious leaders don't speak English well, so there's an issue there. You also have self- proclaimed scholars who have read a few books and heard a few lectures and claim that they're of religious authority when they're not. Such 'leaders' have no idea about Islamic laws and are issuing unsubstantiated fatwas which can prove to be dangerous as we've seen in the past.
So I think one of the things that we are trying to do to bridge this gap and try to have moderate religious establishments to reach out to many parts of the world and try to offer ourselves as part of the solution. We have created a full fledged training centre where we train imams on the skills of issuing fatwas and skills of countering radicalisation and this needs to keep happening at a larger scale.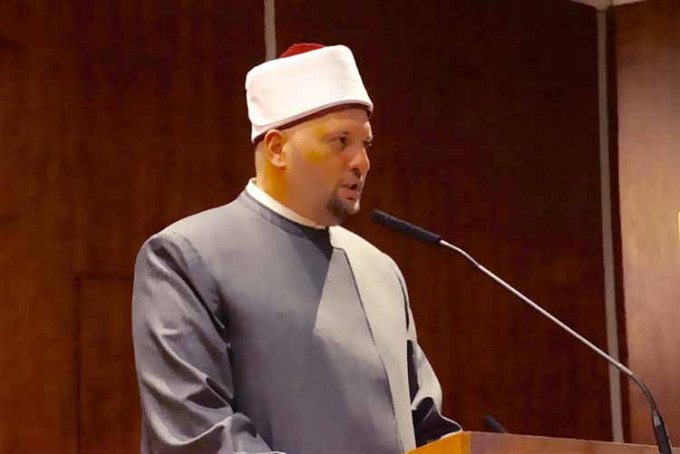 Dr Ibrahim Negm
Does the Mufti consider that the Egyptian government's tough stance against young protestors during the Arab Spring to be the most appropriate response or course of action?
The Grand Mufti is a proponent of giving a space for young people to express themselves in a civilised manner. However, the Egyptian government enacted laws towards these demonstrations that in order to protest or demonstrate you have to have a permit and inform authorities. This is preventative measure because we've seen people sneak into these demonstrations and use weapons etc. So the government stated that if you want to do it just inform authorities. The Grand Mufti amended his statement by saying yes it's alright to demonstrate and express yourself but you also have to follow the measures that the state has taken in order to protect its citizens and public properties. Our primary position is that we are in favour of giving a platform and space for young people to express themselves and we are already doing this through our work and by engaging young people.
Do you think the Arab Spring has contributed to destabilising the region, creating a breeding ground for violent extremist groups?
I disagree with the name, it's the spring of the militant groups like Al Qaeda, Daesh and other groups' Spring, not the Arab Spring. What has contributed to the rise of militancy is not Egypt or Tunisia, it is actually the failure of institutions to fill the void. People had aspirations, they had grievances and they did not find adequate response to these grievances. However, a Western democratic model is not always the solution, there are other important elements that are peculiar to the social, religious and economical context of these countries.

Why do you think some young people are attracted to militant groups and what is the role of religion?
Of course there are many factors and triggers. The mafia-like culture, economic factors, religious factors and even religion, although it is not a big factor but of course it is considerable. Religion is a factor that cannot be dealt with independently from other factors and we have to adopt holistic solutions to discourage extremist ideas and violent extremism.
In the area of religion we do corrective measures and preventive measures. Corrective, is deconstructing the extremist ideology and putting counter narratives in place. In terms of preventative which is 95 per cent of what we do, we engage youth, we answer the religious grievances through private counselling sessions, and we do it online. In the process of amplifying our messages, we now focus on the ethical side of the faith, we focus less on the 'do's' and the 'don'ts' and focus more on the values, ethics and morality of the faith which is mercy, compassion and helping others. This as I said has worked in the Egyptian context.
What are the Muslim religious authorities in Egypt doing to include minority groups within the Muslim community?
We are proponents for building common ground as we have done so with the Shia community in Egypt. For example Al Azhar teaches Shia schools of thought in terms of theology and Islamic law. To us, what has marred the relationship between Sunni and Shiite communities is not the religious difference but the politics we have recently witnessed. For example during the Grand Mufti's recent visit to Lebanon he met with Shia scholars so we don't see a problem with it at all.
How is the Islamic religious community in Egypt connecting with non-Muslim communities?
In the Egyptian case, we don't regard non-Muslims as a minority, we regard them as family. This has been the case since Islam came to Egypt 1,400 years back. I have many Christian friends, I visit them they visit me, we congratulate each other on religious occasions. We regulate religion on the backburner when engaging with each other.
Should there be more collaboration among religious leaders across the Middle East for peace building purposes?
This is a mandate and a religious requirement for this difficult time and the prerogative of the Mufti as a religious authority. We are trying to build a coalition of religious leaders to come forward and call for peace. We are calling on Muslim leaders to educate communities around the world on true Islam, to alert them not to listen to self-claimed authorities who do not represent Islam, and to disown radical groups and movements who have recently hijacked the good name of Islam.
What message do you wish to send to Egyptians Living in Australia?
It's a global diaspora they find themselves in. They're trying to figure out how to connect to their homeland, the social, cultural challenges they have with their children, how to raise them as loyal citizens in Australia and at the same time with a cultural uniqueness which they feel connected to. I would argue that the Australian government has contributed to smoothing out this dilemma and this is very good. I've heard very positive feedback from Australian-Egyptians so far that government officials are friendly and that the government generally has offered whatever help they can to integrate migrants. We noted previously in one of our press releases that the Australian authorities have taken steps to reach out to the Muslim community which is a very welcome step so we commend the Australian government for this positive contribution and engagement with the Muslim community.
Wherever Muslims happen to be they should be catalyst for stability of their host community, they should contribute constructively to the society they live in. They should not create discord or chaos to the host community. This is the central message of Islam which is peace, to be a loyal citizen of the host country does not mean you disown your own faith; rather to be loyal to your country means to be loyal to your faith and vice versa. This duality of identities does not exist in Islam. Islam calls for respect of its ethos and ethical values but at the same time calls for respect and to be a law abiding to the country you happen to live in.
The Point
Dr Negm reflects on his work on violent extremism, the Egyptian experience and what he dubs,' The Militant Spring'.