Young Muslim women changemakers
They are young, beautiful, talented, and Muslim and they are turning heads in their respective fields for all the right reasons. This month, in the spirit of International Women's Day, The Point Magazine gets a little inside scoop on these young women's inspiring and successful lives.
MANAL YOUNUS
Manal Younus is an Adelaide based writer, poet, and spoken word artist with 'Eritrean origins'. She works as a freelancer in writing, creative production and performing arts. An agent for change and a voice for her community, Manal works with high school students and community leaders though ActNow Theatre, which addressing these issues through innovative avenues such as acting and drama.
Manal was a finalist for the Young Australian of the Year Award in South Australia in 2016.She recently appeared on ABC's Q&A alongside Stan Grant speaking on the need for more voices from minority groups in Australia. Manal's self-published collection of poetry 'Reap' was released last year. She sees this as a special achievement and one that makes her feel as though anything and everything is possible. In addition to all this, Manal is also an International Relations student at University of South Australia.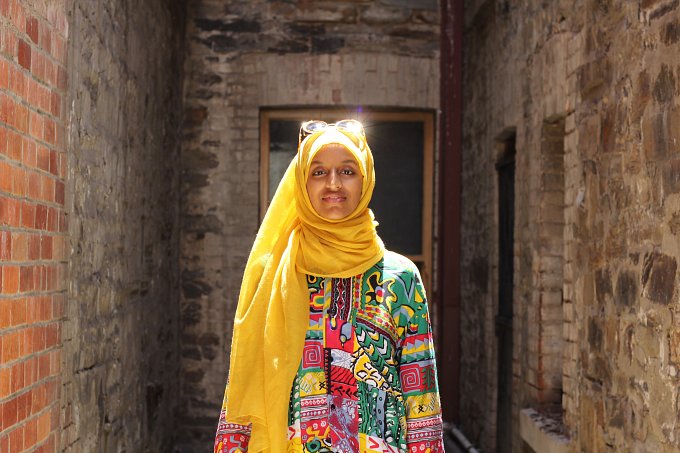 Picture credit: Edel Garipov Instagram: @edelv
What motivates you to get up each morning? What/who are your inspirations?
Life. It is the most incredible gift and each morning I wake up looking for new ways I can contribute to mine and other peoples'. My faith inspires me. I try to embody the teachings of my faith in my day to day.
How did you get into writing/poetry/spoken word?
I have been telling stories for as long as I can remember. I used to do news reports for my family, write short stories and songs. Over time that all evolved. At one stage I thought I was going to be a rapper! Then, when I was fourteen and looking for other people in Adelaide that liked poetry I saw the 'Australian poetry slam' and saw Omar Musa's performance and I was done! That was the form of self expression I wanted to use so I worked on some pieces and entered the slam the following year and got through to finals in Sydney and I guess that's when this part of my story really began.
How would you describe yourself in three words?
Hmmm… Inquisitive. Inspired. Accompanied. I had to look up antonyms for 'alone' for that last one!
What do you hope to achieve- A goal of yours?
I want to contribute to the empowerment of people in minority groups in Australia starting with my own communities of Africans and Muslims.
Who do you look up to or draw inspiration from?
I wish I could pin point one or two people but the truth is I'm surrounded by people who inspire me. From my dad to family friends, my closest friends, my colleagues, the lady in that play that one time! I find myself drawing power from most of the people I meet.
Do you have any words of inspiration for young Muslim women who feel like they aren't accepted?
The greatest form of acceptance is accepting one's self. Embrace every aspect of yourself, heal, be the best you that you can be and love yourself. Then catapult that love into the world. You might get acceptance back, that's always nice, but you might not and that's ok because God willing, if your intentions are pure, Allah (SWT) has your back.
You can keep up to date with Manal's events and activities through her Facebook: Manal Younus, her website manalyounuspoetry.com, and also via saltmagazine.org.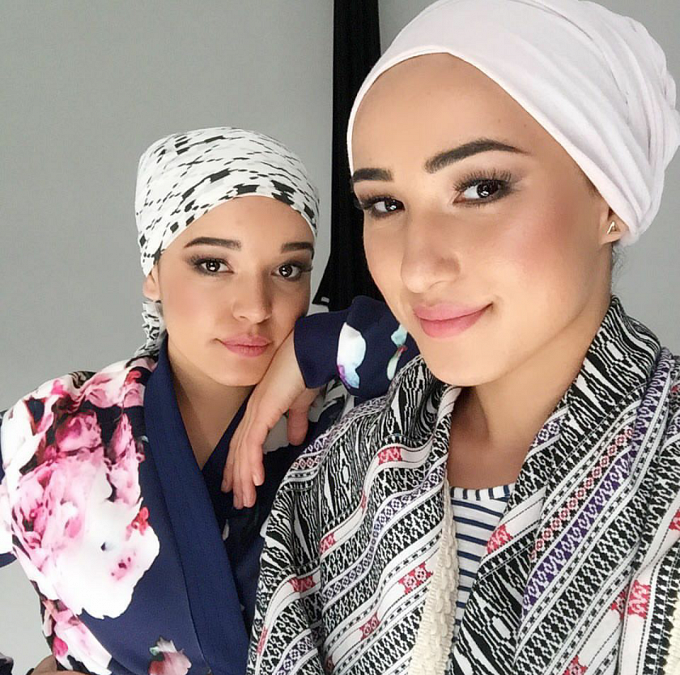 NIGARA & MAWLUDA also known as @twiicethestyle
The duo behind @twiicethestyle have gathered a large following over the past year. The sisters behind the "modest fashion" blog, based out of Adelaide and Sydney, have amassed in excess of 25,000 followers on their Instagram page which started a little under 12 months ago. From documenting the latest trends to creating new trends, the sisters have garnered a large and adoring fan base with a global reach.
Asked if they have a style icon or someone they look up to for inspiration, the girls said that they couldn't credit one particular person for being their 'style inspo'. They get their inspiration from everything and everyone around them. This also applies to the brands and clothing labels they wear. They shop "wherever really!" This is something that makes this duo stand out from the crowded modest fashion blogger scene and what makes them so popular.
Nigara and Mawluda were recently recruited as the faces behind a campaign by Hijab House, one of Australia's most popular modest fashion labels. With the idea of starting their own clothing label in the works, we can only expect to hear and see more of these young ladies in the future. The girls credit their parents with being their inspiration to work hard and succeed in life and in everything they do.
How did you get into blogging?
M: My sister and I always liked fashion and always talked about having a career in the fashion industry, whether it was owning a boutique or starting our own label which is something we would eventually love to do. We thought blogging would be a good place to start experimenting with our own fashion sense and see how people respond to our style before making any business decisions. We also really enjoy being able to express ourselves through our blog; it's a nice break from studying and everything else in life that's stress provoking.
What do you hope to achieve? A goal of yours?
N: Launching the clothing label idea is something that I look forward to. So hopefully a successful business woman! And also being a university professor or lecturer is something I would really love to do.
M: I am currently studying my fourth year of a psychology degree so I hope to be a psychologist as well as a fashion designer. I know that's a random combination but a person can have more than one interest. Perhaps, I'll only consult part time as a psychologist. While I love fashion, I haven't thought about giving up my career in psychology because I do want to be in a profession that benefits people on a personal level. Who knows what will happen in ten years? Maybe I'll be completely immersed in my fashion pursuits.
What are three words that best define you?
N: Organised, thoughtful and optimistic (regardless of the situation I might be in)
M: Honest, outspoken and loyal
Do you have a special achievement you are particularly proud of?
N: I achieved a high ATAR (Final Year result) and college Dux back in 2010 when I finished school. This was a pretty big achievement for me because I was told that I might need to drop out of school due to my lack of commitment to studies up until Year 12. I proved my teachers all wrong haha!
M: Although I don't talk much about the blog, I am actually quite proud of it. We've had the blog for under a year and already we have 27,000 followers. What I'm really proud of is achieving that while juggling the other responsibilities in my life.
Do you have any words of inspiration for young Muslim women who feel like they aren't accepted?
N: Just be proud of who you are and embrace it. Don't be afraid to say what you believe in. No one can bring you down as long as you are firm in your faith.
M: Why do you want to be accepted in a group or environment that condemns your beliefs and values? My advice is to seek friends that respect you as an individual. There is no benefit in trying to fit in with people who have no regard for you as a unique individual. You are part of a beautiful religion, be proud of it and own it. This way you will attract the right people and make friends that last a lifetime. There is no way you will find happiness in changing who you are just to fit in.
Any fashion tips/advice for the upcoming season?
N: Denim for sure! I've been seeing it everywhere in most labels lately. Also modern cut and chic shoulder bags seem to be really in this season too.
M: I would usually say keep it simple but autumn/winter is a great time to layer and try something funky. Dare to be different and experiment with new styles; that's what I'll be doing!
You can keep up to date on all the latest fashion trends with Nigara and Mawluda via their Instagram: @twiicethestyle.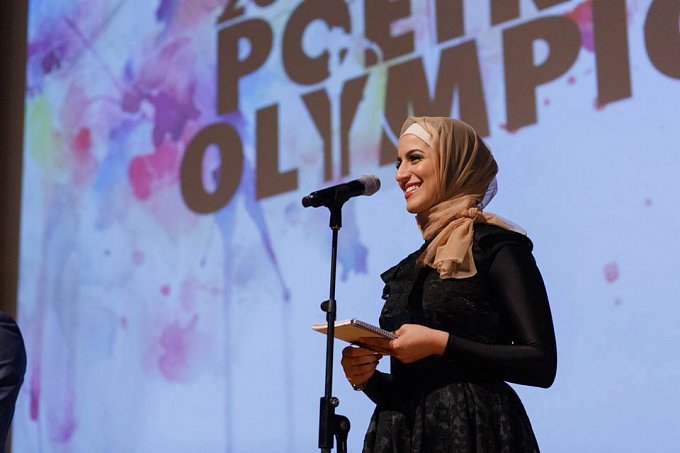 SARA MANSOUR
Sara Mansour is the co-founder of the Bankstown Poetry Slam, a paralegal at one of Australia's largest commercial law firms and a final year law student at Western Sydney University. The Bankstown Poetry Slam (BPS), one of Sara's most notable achievements, is a not-for-profit organisation that gives local talent the opportunity to showcase their spoken word poetry. It was founded in 2013, is the first regular slam in Western Sydney and has been given recognition as the largest slam in Australia.
On top of juggling such a hectic work schedule, Sara loves unwinding through travelling, eating (preferably a combination of the both), going to the gym, listening to podcasts and horse riding (which she conceded she hasn't done in eight years, but plans on going soon, so it still counts!). She sources her inspiration from her parents; who from humble beginnings 'have forged a great life' for her and her seven siblings.
How did the concept of the BPS come about?
My co-founder Ahmad Alrady and I were having a bit of a whinge that all the spoken word events in Sydney were either in the City or Newtown, and were feeling a bit frustrated (and lazy) at having to drive down every time. Then we just had the idea to start one in our area, and the Bankstown Poetry Slam was born. I think the popularity of the event signifies that there are many people in the community that also needed the platform that Ahmad and I did to express ourselves and engage with topics and issues in a meaningful way.
Describe yourself in three words?
Late, ambitious and thoughtful
Could you tell us more about your academic work and studying law?
I had the opportunity to study a law unit in Shanghai for three weeks over the summer which was an exciting and eye opening experience. However, for the most part my degree has been characterised by poor time management, procrastination, frantic cramming and anxiety followed by sweet relief when results come out. I think that's the general tertiary academic experience, right?
Is there something you've achieved in your life so far you are particularly proud of?
I'm quite proud of where the Bankstown Poetry Slam is now. We are the largest regular spoken word event in Australia and we have launched two books (a third on the way), have run countless workshops, been involved with WSU for a few events and in November last year we ran an internal competition called the "BPS Olympics" that was featured on the ABC 7:30 program.
Where do you see yourself in the next few years?
I'm still trying to figure out if I will practise as a lawyer or pursue my passion in spoken word poetry as a mentor to school students. We have had the opportunity to run a few workshops at schools and seeing the benefit the kids gain from interacting with writing and literature in a fun, dynamic, contextualised and personal way is something I absolutely love.
Do you have any words of inspiration for young Muslim women who feel like they aren't accepted?
I think the most important thing is not to feel victimised or down trodden by what is happening around the world or what is being portrayed in the media. It can all be a bit overwhelming but I think that for the most part, any negativity can be used in a positive way as a catalyst for change (such as starting an event or a program). There are many strong Muslim women who are changing the narrative and paving the way for us to feel accepted without compromising our beliefs or values, and it all starts with being proactive, and doing what you love.
You can follow Sara's activities via: www.bankstownpoetryslam.com, on Instagram @bankstownpoetryslam and Facebook: www.facebook.com/BankstownPoetrySlam
The Point
Young, beautiful, talented and Muslim, and they are turning heads in their respective fields