One-on-one with Donna Jacobs Sife
Donna Jacobs Sife is a storyteller who has been involved with Judaism as a teacher, performer, writer and contemporary interpreter for the past twenty years. She has told stories all around the world, winning scholarships to perform in Israel, San Francisco and the U.K. She tells at festivals and conferences, at corporate events, religious institutions, schools, celebrations and seminars. She works with communities in conflict and is currently the Program Director for Together for Humanity, a multi-faith not-for-profit organisation that helps schools, organisations and communities respond effectively to differences of culture and belief.
Q. Tell me about the work that you do?
We are an anti-prejudice and education organisation. We bring schools together from different demographics to come together and break down assumptions. We work with disadvantaged schools and the same ones over a period of time. We have a core team of a Jewish, Muslim, and Christian and sometimes Indigenous and agnostic. Even though we have different belief systems we use this as a model for the kinds of relationships we want to foster.

It is not about knowledge more it is about building relationships and physical contact. For example, in South-West Sydney lots of Muslims kids who might have assumptions about Jews and this immediately dissipates once they start speaking to each other.
We also have a Belonging and Identity program- Stand Your Ground– is about dealing with the disenfranchised and we build relationships to deal with counter terrorism.
We have worked with young radicalised boys in the past before – it takes about a year to build that level of trust to share this with us. For example, when a young radical kid meets a Jewish kid means they can never hold onto their assumptions and stereotypes. We have a great sheikh who comes with us. And you find by asking the right questions you get often surprising insights.
For example, I remember a few years ago when the British soldier was murdered not in uniform around the same time as the prophet was insulted in Denmark. I remember saying to the kids which they believed was worse – to kill or insult the prophet? And they all felt insulting the prophet was worse. This was very interesting to us and it is important to understand their mentality if we want to work together. Also, often kids are more orthodox than their parents – they often have to beg their parents to wear the hijab.
We also talk about complex identity – and when we ask about their homeland, none of them write down Australian. Why is that? Is it because they feel disenfranchised? Is it a loyalty to their homeland? Do they feel under attack?
We also talk about complex identity – and when we ask about their homeland, none of them write down Australian. Why is that? Is it because they feel disenfranchised? Is it a loyalty to their homeland? Do they feel under attack?

– Donna Jacobs
Q. What first made you interested in your line of work?
As a storyteller I felt my niche was in conflict and justice issues. That was my interest. I have always had this vision.
Q.How much does your faith guide your work? / If not faith what does?
I would say a lot. The commandment to welcome the stranger is one of the most repeated statements in the Torah. I like to use this as the basis to expand the horizons and make the family bigger and when I do public speaking.
I have also been very active in Jewish community. Rabbi Zalman Kastel is the National Director of Together for Humanity and we taught Jewish studies together in the schools. We have worked on each other in many respects.
Q. Women have been key contributors in bringing faith based community's together, why is this role important?
Women have a different touch. I don't want to be too gendered about it – but we are mothers and we want our family close to us. I think this is a slightly different approach to the way men operate. We are drawn to peace because we don't want our sons fighting in wars and we will do anything to make sure our children are safe.
Women feel their own disenfranchisement within religions and can relate to the idea of being exclusion.
Q. What is your favourite thing about a faith you don't practice?
Confession. There is something about being able to unload. I still have a healthy dose of suspicion about it. But I feel certain wistfulness about it.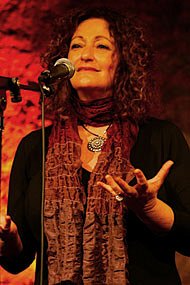 What role do you believe literature/storytelling can have in helping society to come together?
It utters the unutterable. We should never try and convince each other. We need to listen and inspire the attention of the group. We just need to create safe ways of saying things. Find value based common ground but never find it in facts.
I'll give you an example. I work with Palestinians and South African communities in conflict. With an Israeli/Palestinian group I would be inclined to tell a story.
A Grandson was walking with his Grandfather and he asked, Grandpa is it true the lion is the king of jungle?
Yes, the Grandfather replied.
Then why when I hear of people speak of the two battling it is always the man that wins?
And the Grandfather said, well it will always be like that until the lion tells the story.
This story goes straight to the heart of the importance of perspective and who is telling the story.
Q. In Australia is there a particular issue at the moment you want to see more work being done/ focused upon?
I wished the Government would stop talking about counter terrorism and start talking more about the disenfranchisement of youth. It incites it has tendency to feed an 'Us' vs. 'Them' mentality.
The language that we use is of interest to me, the kind of language that builds communities – I would love to hear more of that in rhetoric in our nation.
Q. It is international women's day - What is one piece of advice you have for young women today?
To young people I would say to do the work you are passionate about and don't worry about the end reward. The reward will look after itself.
As women we have a special role that men can't fill and that is nurturing and providing for the disparate folds in the world and I think we do it with a compassion that is specifically ours. I would encourage women to go out there 'mother' the world.
The Point
Donna Jacobs Sife is a storyteller who has been involved with Judaism as a teacher, performer, writer and contemporary interpreter for the past twenty years