Baha'i students finding ways to thrive
A growing number of Baha'i students from Iran are pursuing university degrees, despite being systematically denied education by their own government. This month, four young Baha'is in Iran were arrested after making complaints on social media about authorities refusing to release the results of their university entrance exams. The Point Magazine spoke to one Baha'i student who is now pursuing her dreams of a degree in Australia.
*Leva used to have to beg for her books. "To borrow books (from the library) you had to have a student card, and as we weren't allowed education, this was hard to prove. So, I remember begging people to borrow books on my behalf."
When she was finally admitted to the Baha'i Institute of Higher Education, an underground university in Tehran, Leva became part of an informal book lending system and could access some online articles through a shared password.
According to The Baha'i International Community (BIC), 820 Baha'is have been arrested in Iran since 2005
"Opportunities for Baha'is in Iran are quite limited," Leva told The Point Magazine.
"During my father's time they could still attend university as it was before the Islamic Revolution. But during his last semester he was dismissed in 1978 so he did different casual jobs until the establishment of the Baha'i Institute of Higher Education."
"By denying this education they know that's how you can cut the roots. It's the main thing people can have to grow...You are not slaughtering them in front of media so they can shout it everywhere. They are slowly, slowly in a systematic way cutting the roots.

– *Leva, Baha'i student in Australia
The Baha'i Institute of Higher Education began in 1987 as a response to the banning of Bahai's from Iranian universities since the Islamic Revolution of 1979. It began quietly, covertly, and with little fanfare so as not to attract the attention of authorities. Initially the program offered two main areas of study, but demand has seen the syllabus grow to include civil engineering, computer science, biology, and English. Lessons are conducted privately with lectures in people's homes and via correspondence.
"It has been called the biggest university in the world, as the venue was mostly people's houses – we used to have some of the classes at our home," Leva said.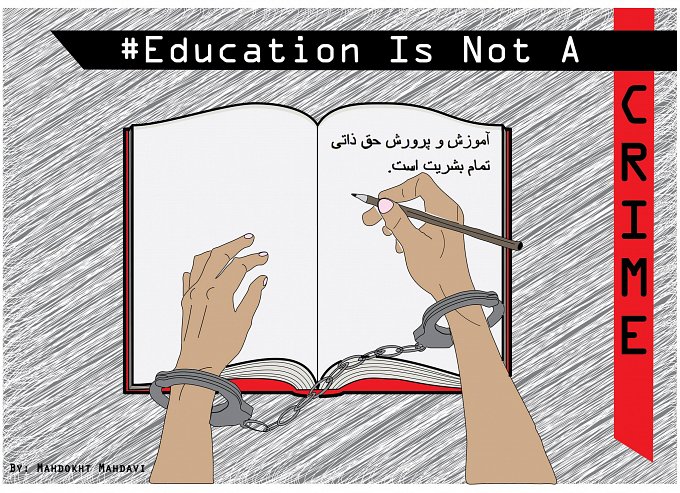 Attempts to find a permanent facility for the university have been thwarted by the authorities.
"At one point in time they secured a building, but it was taken away for us. We had a couple of laboratories, but these were taken. They took, we moved and bought things again; we will never give up."
Leva is one of three siblings who are all now studying or working in western countries. She said her parents always intended to study abroad in order to gain employment. They also wanted their children to learn and contribute to the life and growth of the institute.
"It was my parent's utmost desire for me to study as part of the institute in Iran. We all feel this is very important. It is a spiritual initiative as well as a place of education."
The university's reputation has grown internationally. Many students have been offered scholarships at prestigious universities in the West, including Berkley, Yale, and Princeton. A range of Australian universities have also offered placements to students of the underground campus.
"Maybe 10-15 years after first admission some universities from Canada started offering scholarships. It was like a spark of hope for students to see that our efforts are going somewhere. We felt like it was an underground university even though the quality was so good, but suddenly we are told we can continue our education. It started to feel more purposeful and tangible," said Leva.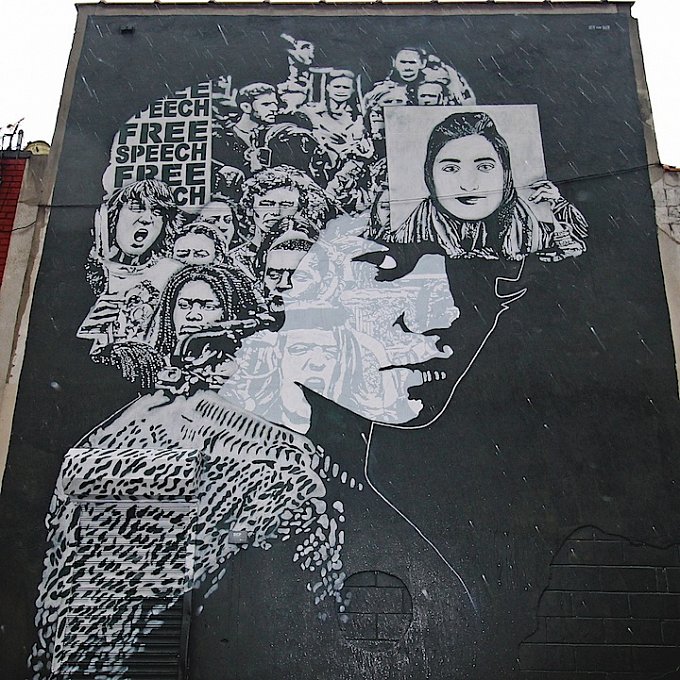 New York-based Iranian artists Icy and Sot, 819 Broadway and Ellery St in Bushwick
The Baha'i faith, whose followers' number 300,000 in Iran and five million worldwide, began a century and a half ago in Iran. While other minority religions such as Judaism, Zoroastrianism and Christianity are officially recognised, the Baha'i religion is not recognized in Iran's Constitution, and as a result Baha'is are denied equal rights to education and they have restricted access to employment and advancement in their jobs.
More than 200 Baha'is were killed after the Iranian Revolution in 1979. Many of their teachings are viewed by the Iranian authorities as heretical to traditional Islamic belief.
Leva says the denial of education has been a very effective way of oppressing her people.
"By denying this education they know that's how you can cut the roots. It's the main thing people can have to grow...You are not slaughtering them in front of media so they can shout it everywhere. They are slowly, slowly in a systematic way cutting the roots. Especially with all the advancements in technology, without people who care about our education and this institute, we would be so left behind."
In recent years the persecution of the Baha'i has been gaining international condemnation from human rights groups, media and governments. Earlier this month, Australia's Foreign Minister Julie Bishop met with Iranian Foreign Minister Javad Zarif and raised Iran's record on human rights, including the treatment of Baha'i communities.
Part of this momentum has been a result of an international awareness raising campaign #NotACrime. The campaign was launched in November 2014, by Maziar Bahari, the campaign director, an Iranian-Canadian journalist and filmmaker whose detention and torture by Iranian authorities in 2009 formed the basis of"Rosewater," the recent film by U.S. political satirist and "The Daily Show" host, Jon Stewart.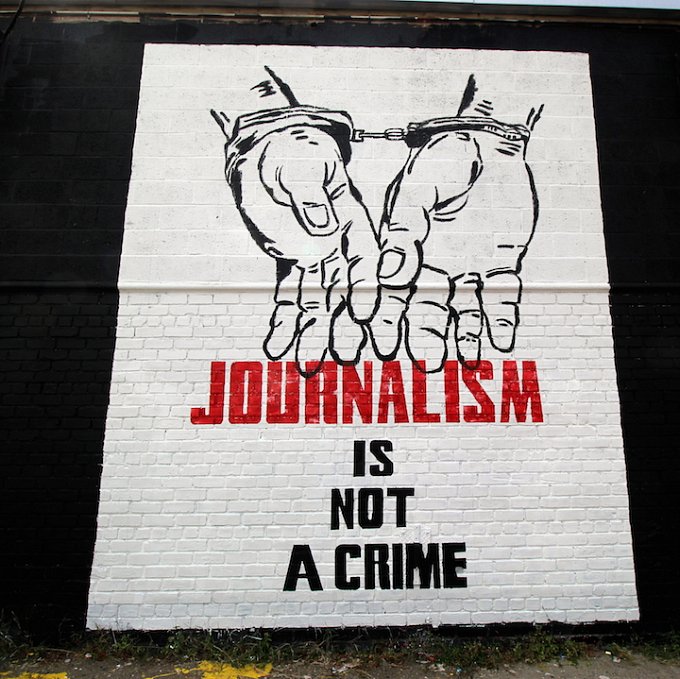 New York-based Iranian artist Nicky Nodjoumi, 11-22 Welling Court in Astoria
The campaign worked with some of the world's most prominent street artists to mix old forms of political art with new technologies. It attracted some big name supporters including Nobel Peace Prize laureates Archbishop Desmond Tutu and Dr Shirin Ebadi and Hollywood stars Mark Ruffalo and Rainn Wilson have also endorsed the campaign.
Last year Sydney joined other international cities in the campaign, with wall murals appearing in St Peters and Bondi.
Giles Fryer, coordinator of Street Art Mural Australia (SAMA), was the curator of the Bondi wall.
"Street art is inherently political, and it is hugely popular, so it can connect with a demographic that wouldn't necessarily be interested. We wanted to show a young person who has been limited to dream or aspire. What would happen if they could never aspire to more than their surroundings? " Fryer told The Point Magazine,
Fryer was approached by the Director of Public Information of the Australian Baha'i Community to support the campaign and he has since become a strong advocate for the cause.
"I see great value in using public art to encourage a more diverse discourse on issues in societies and it's a very inclusive approach and I am excited to be part of this project in the future."
He said the murals attracted international recognition both within the Baha'i community as well as the broader public.
Notably, a growing number of Iranians are also defending the rights of the Baha'is in Iran. The campaign also tackles wider human rights issues in Iran, including media censorship and the imprisonment of over fifty journalists.
Since coming to Australia has been impressed by the interest and support from Iranian Australians.
"At home in Iran we always tried to be cautious of befriending too many people outside of our faith as we could get in trouble. Many (Iranian Australians) have approached me and asked questions they couldn't back home and said supportive things and they want to know the reality of the situation. Here, government isn't after you for your religion so we can be open minded."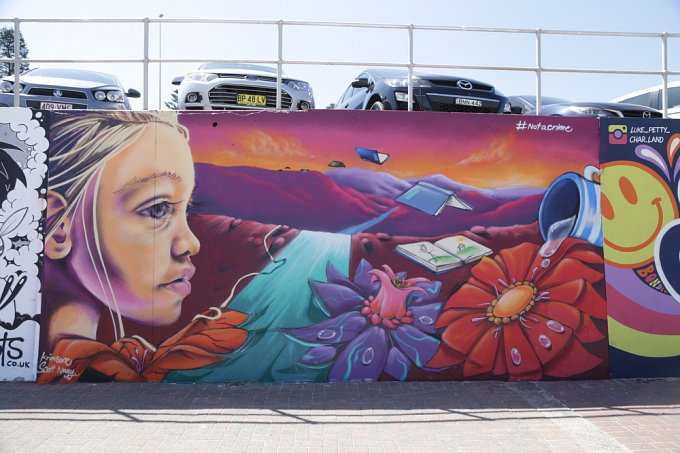 The Bondi Beach mural part of the international #NotACrime campaign
The Point
Marginalised Baha'i students from Iran are pursuing international university degrees.