Refugees learn Australian culture one wave at a time.
The waves are bigger than they are used to. The water is colder. Surfing Australian beaches may seem a highly unlikely form of therapy for refugees who have suffered the trauma of a desperate sea voyage to asylum to this country, but it seems to be working.
The Surfing Without Borders program began in 2015 as a pilot program after Sandra Oehman, a case manager for Settlement Services International (SSI), took her refugee clients on an excursion to the beach.
SSI approached Bondi surf school, Let's Go Surfing, to run fortnightly classes for refugees and asylum seekers in the hope of giving them opportunities for social interaction.
"Many refugees and individuals who are seeking asylum have experienced unimaginable hardship as a result of war and persecution in their home countries. Some individuals also suffer from anxiety about the wellbeing of friends and family who remain in their home countries. The Surfing Without Borders program has allowed these individuals to take their minds off their concerns and focus on learning new skills in a fun and welcoming environment," SSI CEO Violet Roumeliotis told The Point Magazine.
"I had seen the sea before and I love the water but not like this – it was not so dangerous."

– *Danny, 2015 program participant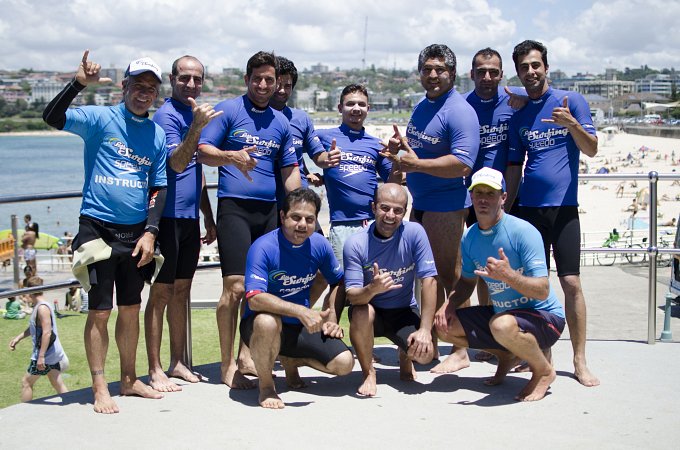 Refugees in the 2015 Program at Bondi Beach
Danny, a refugee who took part on the 2015 classes, was a lifeguard for seven years back in his homeland in southern Iran. But the first time Danny experienced the Australian ocean was during his trip from Indonesia.
"I had seen the sea before and I love the water but not like this – it was not so dangerous." he told The Point Magazine.
Danny's caseworker suggested that surfing classes might help overcome his traumatic experiences.

"I was happy to make those (new) memories of swimming in the ocean. I had a bad experience and bad journey, it was so awful as I didn't really accept the journey (would be) so dangerous. But when I visited Bondi beach it was really enjoyable."
Danny says his favourite part of the program was learning to stand on the board— "it is very difficult!" — as well as the social interaction.
"It was lovely to be part of conversations and I got to know some people from Iran and Pakistan."
Social isolation is one of the common issues facing asylum seekers and the surf lessons help to keep them engaged in the Australian community.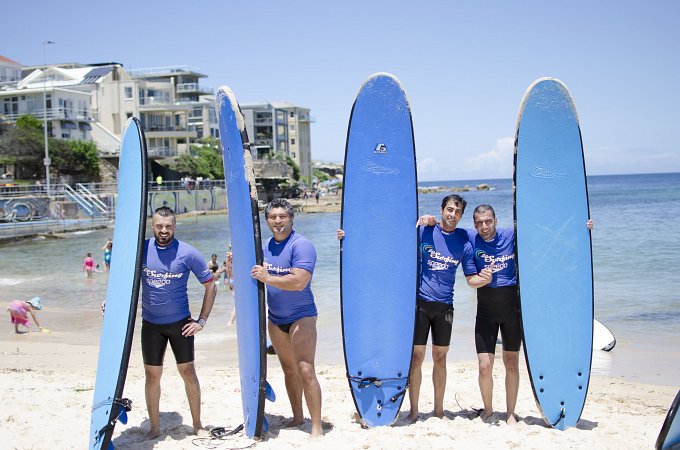 "The Surfing Without Borders program has been tremendously effective at helping participants to overcome social barriers and develop new community connections.
We are thrilled to see how far these men have come. It's truly inspiring. These individuals' English language skills have improved, their confidence has dramatically increased, and they have made lasting friendships and community connections", Roumeliotis said.
Since taking part in the program Danny has moved from Parramatta to Randwick and enjoys being closer to the beach. He still uses the surfing board SSI gave him to surf on his own at Coogee or Maroubra.
The Surfing Without Borders program is looking to expand beyond Bondi Beach, and there is growing demand.
Arthur, who arrived from Iraq in 2013, wants to take part in surf classes this year and says he is excited to challenge himself and his fears.
"I want to have control over myself. I love water. I want to try – it is like flying."
He said the beach culture took some time to get used to, as in Iraq it would only be men swimming.
"Here, it is everyone."
Danny said he hopes the program will continue for the next wave of refugees to ride.
"It is good for the mind; to forget everything; and to spend time together."


*Danny and Arthur are pseudonyms.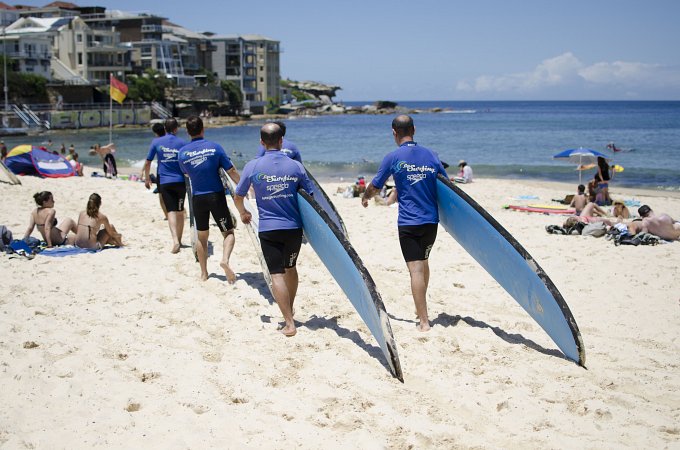 The Point
Refugees learn to surf at Bondi Beach as an unlikely way to deal with trauma