Deng Adut Thiak's journey from child soldier to Australia Day Hero
Deng Thiak Adut's story has gone global in a viral video by Western Sydney University. In an exclusive interview with The Point Magazine in the lead up to his prestigious Australia Day Address, Deng reveals more of his special story.
"It was a very bright red, like a colour I hadn't seen before."
Deng Thiak Adut is remembering a red shirt that his older brother gave him when he was nine years old. It was a typical enough present that any older brother might give to a sibling – but it was the first time Deng remembers receiving a gift. And nothing about his circumstances was typical. Deng had been recruited three years earlier at six years of age as a child soldier by the Sudanese People's Liberation Army. For three years, his toys had been the AK 47s that were thrust into their hands, his nursery rhymes were the war songs they were taught, and his playground was the military training camp in Ethiopia.
At the time, there was a famine raging through Ethiopia and Deng was fatally ill with a fever. Somehow, his brother had found him at this crucial stage and brought him a clear chicken soup which revived him. But in the midst of the famine, war, and loneliness, it was the red shirt that most captured his imagination.
"I don't know how he even got it for me. He had his boots. His khaki. And a gun. He had nothing to give me."
But the moment was short-lived. Days after his brother returned to his base camp, an older soldier stole the t-shirt from Deng. It joined a long list of things that had already been taken from him.
"I lost the freedom to sing children's songs. I lost the right to be innocent. I lost the right to be a child."
Twenty- two years on a lot has changed for Deng. When we meet in his Redfern residence he cuts a striking figure in a dapper light grey waistcoat.
"My friends sometimes ask me for fashion advice," he tells me. He will help a friend buy a suit later in the afternoon.
Just eighteen years after arriving in Australia, Deng has started a successful law firm in Blacktown with a partner specialising in criminal, refugee, and family law. He has helped over 200 people within the Sudanese community in Australia to ensure refugees, who often feel discriminated against and targeted by police, have access to legal justice. Late last year, his personal story was featured in an advertisement from Western Sydney University, and went viral, inspiring people from all around the world.
This year, Deng was selected to deliver the prestigious Australia Day Address.
"To be here today, talking about freedom from fear, about the rewards that come from thinking 'inclusively', rather than thinking 'divisively', is to achieve something that the child conscript Deng could not imagine," he said in his address.
"To be here today, talking about freedom from fear, about the rewards that come from thinking 'inclusively', rather than thinking 'divisively', is to achieve something that the child conscript Deng could not imagine."

– Deng Adut Thiak
Deng was born in Malek, a small settlement town on the bank of the Upper Nile River in South Sudan. The town is about nineteen kilometres south of Bor, which became an area of historical and strategic importance when an officer of the Sudanese army led a revolt in 1983 which led to the formation of the Sudan People's Liberation Movement and Sudan People's Liberation Army (SPLM/SPLA).
"They accused the civilians of being spies on both sides, there's nowhere to go. So, we went to the other side of the river on the south bank of the Nile to get away from the gun range. You see these shells tearing through the village and everyone was terrified and jumping into the water because there is no shelter. The Nile is a big swamp. People go and build small houses there. When you leave the west bank and look to the south there are no trees and no rivers. At night, you could see fireworks from bullets passing by your head. You could see the light at night, it's all lit up. At night you can't see it you just have to dig and try and hide," he told The Point Magazine.
Deng's father was a fisherman and had a banana farm. One of eight children, Deng had had a big extended family, but during the war he says nearly 80 percent of his family, including his father, were killed. Left with nowhere to go he and his brother walked – "more like he carried me" – for almost 40 days to reach a refugee camp in Pinyudo, Ethiopia.
But the camp was already under the control of the SPLA, who were four years into their fight against the Sudanese Government. His brother voluntarily joined the army, which meant Deng was left alone. At the time, Pinyudo was filled with parentless, isolated children like Deng, who had come from all over the region and were from around 500 different ethnic groups. They were easy prey for the SPLA. Deng spent the next six years training and fighting under the SPLA as the children learnt how to dodge landmines, and he was injured and shot at numerous times after being sent out to fight.
"You could call it a horror film. I remember death on a daily basis. I have seen hell, I would say. If there is another hell on earth, I have seen it in Sudan. I've seen friends being killed in front of me. I have seen people blown up by landmines. I have seen the jet fighter dropping bombs."
"Around 1993, I watched as some boys, only 10 or 11 years old, as they picked up their AK47s, put the gun to their heads, squeezed the trigger with their own fingers and blew out their brains. In a better world those fingers might have made music in a place such as this hall, built homes, operated the equipment of scientific discovery. Instead their short lives were as nothing – innocents destroyed."
One afternoon during a game of soccer, Deng discovered from a fellow player that his brother had escaped from the army. His brother visited the military camp, which was disguised as a refugee camp, and tried to get Deng to leave and seek refugee status in Kenya. But Deng says at first he didn't want to leave, that was how brainwashed he had become.
"He made this plan, but it was a very stupid plan - to sneak away during sentry duty. There were firing squads. At the time child soldiers had immunity against being killed. I could be locked up and tortured but they won't kill me." But his brother was above the child age and at risk of being executed.
In what he describes as a miracle, the plan worked. Deng arrived in Kenya in 1996, on a truck loaded with corn, where he was granted the United Nations refugee card. Two years later, on 26 June 1998, at almost fourteen years old, Deng stepped onto Australian soil.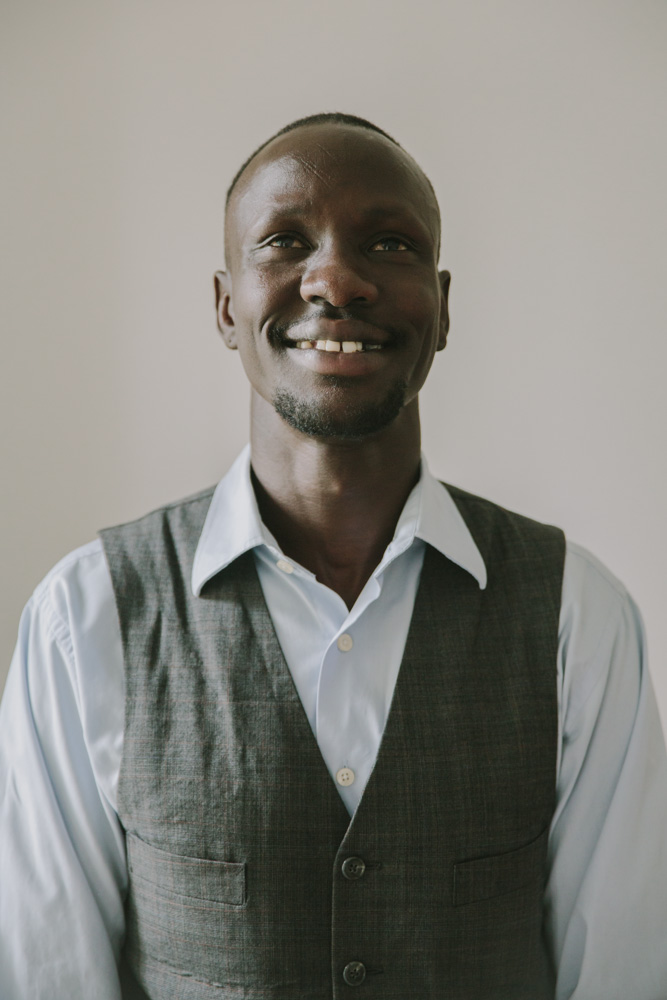 Deng Adut Thiak by Kate Disher-Quill
"To appreciate the value of freedom one must first be denied it. To know real fear gives special meaning and yearning to being free of fear... The mark of 'inclusiveness' was denied to me. I had to wait until I became an Australian citizen to know that I belonged." He told the crowd gathered at the Australia Day Address.
Deng knows how difficult it can be settling into Australia and says it was also a struggle for him and his family who are based in Sydney's suburb of Balcktown.

"To be honest, there was so much confusion and if I'd had the money or the means, at first I wanted to go back. I didn't understand anything... I felt like an alien. I did all kinds of wrong things. We were first placed in Katoomba. It was too cold. On my first night I almost electrocuted myself with the electric blanket; I stood at the train station for three hours trying to get a ticket as I didn't understand what was going on; I once put coke in the microwave to warm it up."
"There were people who helped us but it was hard for them. The language made it hard. You just said 'yes' to everything, it became the magic word. So every day you were just shaking your head yes, yes, yes."
But in his speech he called on new migrants to not give up on the dream that brought them here. "Within every Australian community there are people who were immigrants or whose parents were immigrants. Treat the experiences that brought you here as tough training for the journey of establishing new lives, new families, new careers."
Deng taught himself English and TAFE really helped him to learn English and he is passionate about education and English classes for refugees. From there he did an Advanced Diploma in Accounting and it was his brother, who was later killed in the Civil War, encouraged him to study law. Deng says the law resonates with him because he has lived injustice.
"Injustice is my number one enemy that I do know. This is why law resonates with me. I will tell people when they are wrong. I always have. I used to when I was young and I got tortured so bad. I couldn't sleep because my back and whole bum is covered with wounds and scars and I developed a survival instinct. I know injustice very well; I don't need it explained to me. The law is a good way to fight it."
Closest to his heart these days is child protection. Deng says he wants to follow his brother's dream and eventually help establish schools in Sudan.
"Taking away children from their parents – justice should not be used as a playground to harm little kids. The decision makers do not know what it feels like to be taken away. The only way for that child to become just is by a mere miracle."
As we leave his house, he stops by the bookshelf filled with an assortment of his favourite titles from Henry James to Khaled Hosseini to Omar Khayyam. It is indeed a miracle to think of the former child soldier who arrived here with no English, is now a voracious-reading refugee lawyer. But the past shapes us and is never far away, so that even here, on a summer day in Redfern, millions of miles away from South Sudan, Deng says he will always remember that day he was given a red shirt, and how bright it was, and how he will always fight for what is unjustly taken away from others.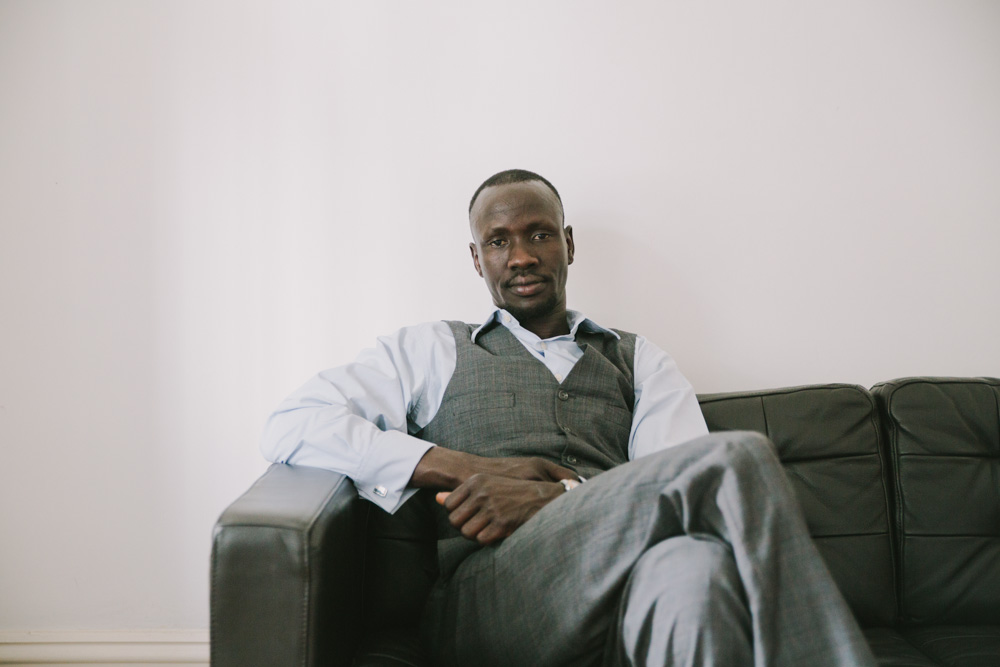 Deng Adut Thiak at his Redfern residence by Kate Disher-Quill
The Point
Deng Adut Thiak's journey from former child soldier to Australia Day Hero